LAU School of Engineering's programs granted ABET accreditation
All five of the school's undergraduate degree programs are recognized by the Accreditation Board for Engineering and Technology.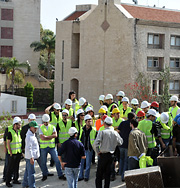 The Accreditation Board for Engineering and Technology (ABET) accredited all five undergraduate degree programs at LAU's School of Engineering.
The full slate of the LAU School of Engineering's undergraduate degree programs has been formally accredited by the Engineering Accreditation Commission of the Accreditation Board for Engineering and Technology (ABET), the most prominent U.S.-based accreditation agency for programs in applied science, computing, engineering and technology.
"We got it!" exclaimed Dr. Abdallah Sfeir, LAU provost and founder of the school, on hearing the news.
The recognition represents a major milestone for the university, and culminates years of work for the School of Engineering, which set out in 2009 to conduct rigorous self-studies for each program (B.E. in Civil Engineering, B.E. in Computer Engineering, B.E. in Electrical Engineering, B.E. in Industrial Engineering, and B.E. in Mechanical Engineering) in preparation for ABET's review.
When ABET's evaluation team visited LAU in November of last year, its draft statement made minor recommendations but commended the school for the thoroughness of its preparation and self-assessment.
Dr. George E. Nasr, the school's dean and professor of electrical engineering, informed the LAU community of the news, and saluted the school for "transforming its visions into plans and actions that gave LAU this academic prize."
"With this achievement, the School of Engineering is entering a new phase in its history," he added.

Remarking on the energy, ambition, and relative youth of the school's faculty, Nasr praised its members for being "unafraid of change" both in the academic discipline of engineering and in the profession at large, and suggested that this ethos is passed on to students of the school.
"We want our graduating engineers to contribute to setting the course of the profession. And we want them to be avant-garde in the way they perceive the profession," Nasr says.
"Ad augusta, per angusta," said LAU President Dr. Joseph G. Jabbra in a message to the university community, citing the Latin tag for "to high places by narrow roads," through difficulties to honors.
Jabbra describes the accreditation as a "signal achievement," and a boost to both the morale and academic credibility of engineering students and faculty.
"We've known for some time that we have excellent programs in engineering, but we needed ABET to say that," Jabbra says. "The sign of academic excellence must come from your peers."
Jabbra points out that LAU's comprehensive, university-wide accreditation by the New England Association of Schools and Colleges (NEASC) in 2009 has paved the way for individual school and program accreditations like that of the School of Engineering.
"This is one of the reasons we aimed first for institutional accreditation. It's often a prerequisite for professional accreditation," Jabbra explains. "You go from the general to the particular."
Sfeir agrees, adding that while comprehensive institutional accreditation affirms that all programs follow proper standards and are taught by qualified faculty, only professional accreditation addresses the specificity of each program.
LAU's institutional accreditation by NEASC and professional accreditations of its programs are "goals set by the university in its Strategic Plan 2005-10 and in the present Strategic Plan," says Sfeir. "But accreditation is not simply an objective to reach; it's a commitment to a never-ending process of improvement."
"It can be very easy to be complacent, but if you're not moving, you're receding," Sfeir adds.
ABET's visiting team also evaluated the Computer Science Program in LAU's School of Arts and Sciences, and is expected to deliver its accreditation decision soon.