LAU–USAID program targets underprivileged students
The new USAP program will fund the university education of 52 public high school students from Lebanese families with high financial needs.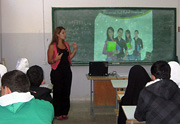 Recruiters working with LAU's Admissions offices in Beirut and Byblos have been traveling throughout the country to promote the new University Student Assistance Program, supported by USAID.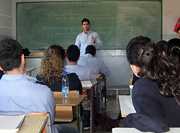 The program will fund the university education of 52 public high school students from families with high financial needs from throughout Lebanon.
In 2010-2011, 52 public high school students from families with high financial needs will benefit from a full financial-support package to fund their university education at LAU, as part of the University Student Assistance Program, a new USAID initiative.
After the application deadline on January 31, 2011, LAU will select two students — one male and one female — from each of Lebanon's 26 districts to receive assistance.
The program was launched after the university won a $6.9-million USAID grant to support the project in late September 2010.
"We wrote a good application," says Dr. Elise Salem, vice president for Student Development and Enrollment Management, explaining why she thinks LAU won the grant. "But LAU also has a track record in leadership development. We are becoming known not only as a university of high academic standards, but of student-centeredness as well."
The program aims to help develop the leadership potentials of the students with the hope that they will use their skills and knowledge of particular industries to improve Lebanon in the future.
Students will thus be encouraged to pick majors in fields that may benefit the country: engineering (civil, computer, electrical or mechanical), education, nursing, social work, nutrition, business, economics, and communication arts (journalism emphasis).
"This grant really is well aimed because it's going to support poor kids across Lebanon to do good not just for themselves, but also for their communities, and at a university that can hopefully help transform their lives and the lives of their families," Salem says.
The program will cover all university-related expenses, including tuition and books, in addition to a cash stipend. The students will benefit from all regular services provided to LAU students and will have a special year of English available to those that require it.
Eligibility to the program will be restricted to Lebanese students from families with high financial needs who score a minimum average of 12/20 on the Lebanese Baccalaureate, obtain the minimum SAT and EEE scores as set by LAU, and have demonstrated leadership and civic engagement experience and potential. Check the eligibility criteria.
Concerted efforts to shape future leaders
According to USAID, the program is in line with the agency's current five-year strategy for Lebanon that focuses on supporting basic and higher education.
"We decided to make the investment for our youth," says Zeina Salame, project manager for USAID.
"It's about promoting educational opportunities for young people who graduate from public school and who otherwise cannot afford to attend a university," she adds.
Many people are involved in the execution of the program throughout its various stages.
Since November 2010, recruiters working with the LAU Admissions offices in Beirut and Byblos have been visiting public schools throughout Lebanon to spread the word about the program and interact with potential applicants.
After an evaluation of all the applications, the Admissions Office will initially select 10 students from each district, and following a rigorous selection process, 52 students will be chosen.
"It is LAU's belief that no student should be denied a world-class education due to financial circumstances," says Abdo Ghié, LAU assistant vice president for Enrollment Management. "It is hence our duty to help each and every student achieve their educational goals."
The newly established Outreach and Civic Engagement unit at LAU will act as a caretaker for the students after their selection and entry to LAU. OCE's first task will be to integrate the fresh recruits into university life with the help of student mentors. After the new students feel at home, OCE will then kick things into gear as it attempts to shape them into leaders.
"By giving leadership skills to these new students, we'll be giving them an equal opportunity to be integrated into an affluent university while at the same time putting them in contact with civil society to become leaders of tomorrow's Lebanon," says Elie Samia, OCE executive director.
"But working with an affluent society is not enough," he adds. "We need to show philanthropy by helping the underprivileged. This is part of our integrity, our legacy."