'Leaning in' in the Middle East
While women are closing the gender gap in higher education, such progress has not been mirrored in the workforce. LAU experts tell us why.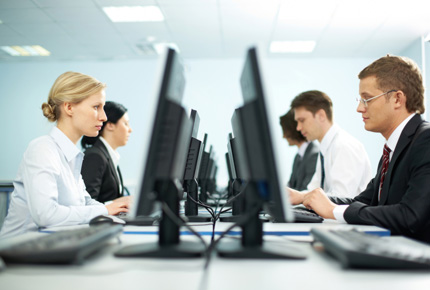 New York Times bestselling author Sheryl Sandberg, Facebook's chief operating officer, caught the public's eye during a TEDx event when she stated, "Women are not making it to the top of any profession anywhere in the world," sparking an international conversation about why the gender gap in employment has been so difficult for women to overcome. In her talk, Sandberg urged women to "'lean in' and not be scared to take on more responsibility."
While this issue has global relevance, it is particularly problematic in the Middle East where the struggle for employment equity has been an uphill battle. In fact, according to 2012 statistics from the United Nations, in Lebanon, women make up 54% of university attendance yet they account for only 26% of the labor force. More worryingly, only a meager 8% of managerial and policy maker positions are held by women.
Why doesn't the job market reflect the same parity that is seen in higher education? "The issue is very complex and there are many reasons, not least of which is the fact that many decision-making positions have historically been reserved exclusively for men," says Myriam Sfeir, senior managing editor of Al-Raida, ("The Pioneer") a quarterly journal published by LAU's Institute for Women's Studies in the Arab World. According to Sfeir, these gendered patterns of labor recruitment make it challenging for women to compete with their male counterparts.
"Such factors are compounded by the fact that many women have a double burden—the management of the household is often solely the prerogative of the woman and they have to balance their responsibilities at home with their work life," says Sfeir.
Dr. Renee Ghattas, professor at LAU's School of Business, agrees adding that there are psychological and social factors influencing some women's' reluctance to take on leadership roles. "Women may find it challenging to balance their responsibilities at work and home; they face stigma from their communities if they prioritize one over the other." Adding: "This balance between work and home life is a difficult one—we need to encourage women to feel empowered to give themselves permission to work."
For Ghattas, this change needs to be combated first and foremost at home. "The issue is complex and it is time we reassess the cultural norms and values of our society within our families," she says. Adding: "Women shouldn't feel guilty when they have to dedicate time and energy outside the household."
She cautions that attaining higher education is not enough, structural obstacles need to be altered in tandem. "Unless we address the institutionalized barriers and the legal system there is no hope," Ghattas says.
But the professor is hopeful about the future and believes the new generation of women will help lead that change. Her advice to young women: "Women be yourself, a brain (educated), a heart (a mother) and a free soul (free thinker)."