Learning assessment: An oft-overlooked process receives attention
LAU workshops shed light on the importance of evaluating teaching.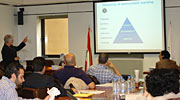 Dr. Gloria Rogers explains the hierarchy of learning assessment at the workshop in Beirut on April 24.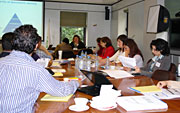 Faculty from LAU and other local and regional universities shared experiences and participated in hands-on activities.
Assessing the outcomes of what they teach was not a familiar practice for many of the faculty members from local and regional higher-education institutions who attended a series of workshops on both LAU campuses last month.

"Assessment has been neglected for a very long time," said Dr. Olga Matar Ghazi from Beirut Arab University, a participant in the Beirut workshop (April 24-25).

"We do a lot of teaching but we also want feedback about the teaching [process] because everyone is looking for quality assurance," she added.

Damascus University's Dr. Rima Al Hakim, who also attended the Beirut event, agreed: "The last thing we do is assessment."

She said this was the first time she thought about whether what she and her colleagues had been doing was right. "Whenever we have some complaints or feedback from constituents we always try to find excuses that [what] we are doing is best," she said.

The workshop showed Al Hakim a new way to deal with feedback. "Assessment teaches you that you should not find excuses. You should listen [to the feedback], outline goals that you aimed at in the beginning, and [evaluate] whether you really reached them," she said.

"The process is the same regardless of the academic discipline," explained Dr. Gloria Rogers, who led the Beirut and Byblos workshops.

Although it's a standard process, faculty members are usually unfamiliar with it, because they are often "hired for their disciplinary expertise," not necessarily their teaching skills, Rogers said.

Through hands-on exercises and group activities, Rogers "tried her best to give us very practical ideas about how to conduct program assessment," said Dr. Rima Bahous, director of LAU's Center for Program and Learning Assessment, which organized the workshops.

The participants shared experiences about their practices in their home countries. "It's good to know that all people have made the same mistakes and are learning and benefiting from this workshop," Al Hakim said.

Drs. Linda Brewer and Inas Ali from Dar El Hikma College, Saudi Arabia, said they planned to go back and teach what they had learned to their colleagues.

The Byblos workshop (April 23) focused on sustainable assessment processes in a specific discipline, engineering, and was addressed to LAU faculty members.

Rogers, associate executive director of professional services of the Accreditation Board for Engineering and Technology explained the topic by familiarizing participants with the ABET standards.

ABET currently accredits over 600 institutions and around 2,800 programs in applied sciences, computing, engineering and technology in the United States.

LAU will apply for ABET accreditation next year, with a visit ensuing in fall 2010.

The process has already caused "a shift in thinking from faculty teaching to student learning," said Dr. Mazen Tabbara, assistant dean of LAU's School of Engineering and Architecture.

The accreditation board will be checking that the department has "established a continuous process of assessing and improving student learning," he added.

Upon the initiative of LAU Provost Abdallah Sfeir, CPLA has been given a $200,000 two-year grant, which requires the center to hold two workshops and one conference per year on learning assessment.

Having organized the two workshops (the first one happened in December 2008), the center is planning to hold a conference in November. A call for papers is already in place.