Learning ethics through community involvement
80 LAU students donate time and goods to Lebanese community centers during class field trip.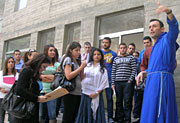 Students take notes as missionary Elie Riachy explains his work at Mission De Vie.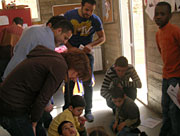 Students get to know the beneficiaries of the Mission De Vie.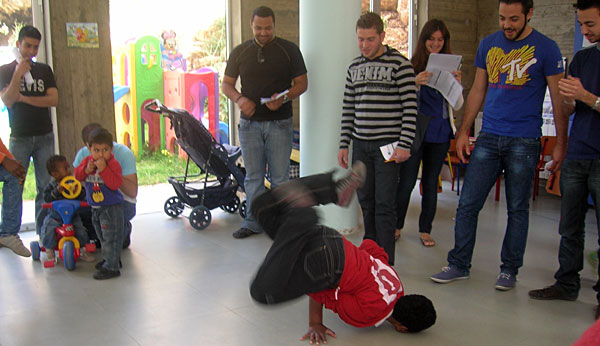 The children of Mission De Vie show off their dance moves to LAU students.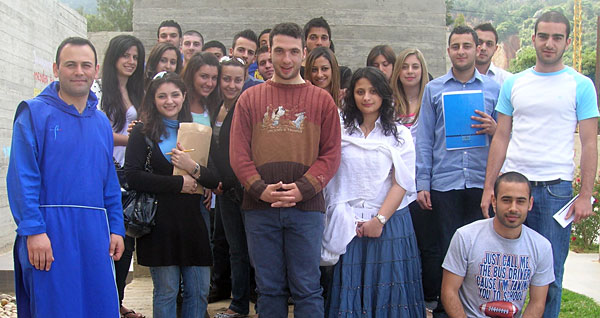 LAU students with Riachy (1st from left) and a beneficiary (3rd from left, front row) at Mission De Vie.
Click on any photo above to view all four images
Led by instructor Reine Azzi, 80 LAU undergraduates embarked on an inventive field trip April 25.

Divided into three groups, students enrolled in Moral Reasoning (Ethics 201), a required humanities course, gave up their Saturday to visit local community centers, observe their practices, interact with beneficiaries, and donate needed materials.

Azzi designed the trip as an exercise toward the application of ethics in everyday life.

"As part of the syllabus, I focused on the application of the Golden Rule: 'Do unto others as you would have them do unto you,' " Azzi said.

"Visiting such organizations ensured the students' exposure to volunteers and missionaries," which reinforced the concepts reviewed in class, Azzi added.

One group visited Mission De Vie, a home in Antelias run by 18 missionaries and around 40 volunteers who offer care to homeless and abused people of all ages by relying solely on donations.

Another group visited patients and conversed with caretakers at the Dar El Ajaza Hospital, Tarik Al Jadida, which provides free health care to 700 patients, mainly the elderly and handicapped.

One student anonymously donated 12 large boxes of brand new linen, clothing, vitamins and sugar-free cookies to the hospital, which is funded by the Ministry of Health and donations acquired through yearly campaigns.

The third group went to the Lebanese Red Cross center in Jal El Dib, where the students spent time with the emergency rescue team and conducted interviews with volunteers.

Students were moved and motivated by the experience.

"It was a depressing sight but I will do it again with great pleasure," said Sabbah Haidar, a social work major, who visited the Dar El Ajaza Hospital.

"It was a way to get students to be exposed to reality," she added.

"My perceptions of my students changed," Azzi said. "The students were reluctant at first; they thought it was some kind of chore. After, some asked me when we could make another trip … [It was] a very enlightening experience."