Learning revolution?
LAU panel discussion addresses the challenges facing the Lebanese educational system.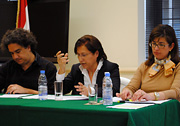 LAU faculty members discuss the challenges of the Lebanese educational system. From left: Dr. Tamer Amin, Juheina Fakhreddine, and Mona Shahine.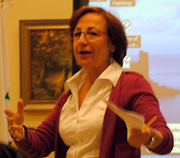 The panel discussion was organized by LAU's Department of Humanities and moderated by LAU English instructor Raghida Ibrahim.
The educational system needs to undergo a process of evolution rather than a revolution, said speakers at a March 28 panel discussion at LAU Beirut.
Swift technological advancements that have reshaped daily life have created the need for a new academic system.
But LAU English instructor Juheina Fakhreddine, one of the panelists, believes that academic strategies need to be gradually upgraded, and warned against calling for a "learning revolution."
"A revolution in the educational system can be dangerous. Education doesn't happen all of a sudden. It's a process that takes time and effort," she said.
The inability of students to discover their academic passion at the university is one of the major flaws of the Lebanese scholastic curriculum, Fakhreddine said.
"The problem lies in the Lebanese curriculum at schools," she explained. "Despite all the subjects that students learn at school, they are unable to choose their preferred major and end up switching majors and shifting interests during their university years."
Fakhreddine believes that grades ought to be replaced by a system that can stimulate passion for the learning experience. She said that the grading policy fosters students' interest in test scores rather than cultivating their interests and critical-thinking skills.
In a Technology, Entertainment, Design (TED) video screened at the event, Sir Ken Robinson called for a learning revolution through personalized instruction. The renowned author, speaker and international adviser on education, creativity and human resources advised students "to enjoy rather than endure" their education.
While conceding the need for adapting the current global academic strategy, LAU English instructor Mona Shahine, another panelist, faulted Robinson's lecture for not acknowledging societal factors affecting vocational choice.
"It is nice to tell people to follow their dreams but not everyone has the capital to do so," Shahine said.
She voiced concern for Lebanon's high school programs, which fit the "fast-food model" of standardization Robinson addressed.
"We have 45 universities that have spawned programs we do not really need. We do not study our markets," Shahine said. "I agree with Robinson, in principle, that we need to customize the learning process," she added.
The third panelist, Dr. Tamer Amin, assistant professor at LAU's Department of Education, concurred with Shahine that Robinson's theme of all individuals having a hidden talent was flawed.
Dr. Vahid Behmardi, chairperson of LAU's Department of Humanities, who was present, echoed Shahine's concern that students are generally unaware of the role of a liberal arts curriculum in shaping a well-rounded graduate.
The discussion was organized by LAU's Department of Humanities and moderated by LAU English instructor Raghida Ibrahim.