Learning while serving the community
LAU nursing, nutrition and pharmacy students join forces to promote disease prevention in a health fair organized in the city of Byblos.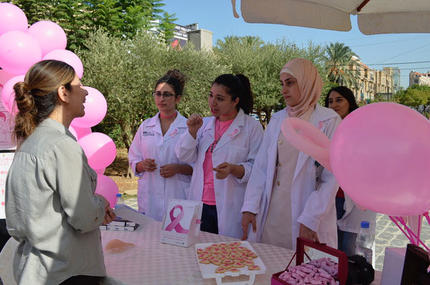 For students in the health field, the knowledge gained in the classroom is only a fraction of what they will need to be successful practitioners. Good communication skills and a feel for the responsibility involved can only be taught through experience.
To this end, LAU encourages a hands-on approach by means of community-based events designed to both train students and provide a service to the community. The latest such activity took place last Friday in the streets of Byblos, where students of nursing, accompanied by their colleagues from nutrition and pharmacy, set up a fair to raise awareness of disease prevention and the need for a healthy lifestyle.
Breast cancer was one of the topics selected by students, and a particularly tricky one. "In Lebanon, women often think that if you talk about breast cancer you are going to get it," said senior nursing student Clara Ann Malak, who became passionate about cancer patients and care after a family friend was diagnosed with the disease. "It feels good to raise awareness about this issue and realize that we can really make a difference."
Byblos is no stranger to the health campaigns conducted by LAU. Last year it had already hosted the Alice Ramez Chagoury School of Nursing's first health fair. The services provided by LAU students to the community is recognized and appreciated by the municipality of the city, which gladly granted them the necessary permits for the second year running. "It is an exchange of services," says Khaled el Lakis, member of the municipality's Health Committee and a pharmacist himself. "We do not have the necessary resources to carry out awareness campaigns and LAU is filling that gap."
Through the academic year and as part of their training, LAU students also conduct home visits―during which they assist chronically ill patients as well as the underprivileged―set up awareness booths outside big commercial centers and work at dispensaries.
"It is important to practice the role of nursing in a community setting," says Mira Abi Saad-Youssef, clinical instructor at LAU. "Not only do students learn how to interact with the public, but they also think about which key messages to extract from the literature."
Alongside the Remy Rebeiz Young Heart Foundation―which participated in both editions offering free EKG testing―this year saw the participation of the newly founded SAID Colorectal Cancer Awareness Association.
What is the added value of having pharmacy and nutrition students involved in this year's edition? "This is an opportunity for the three faculties to intermingle," explained Wissam Kabbara, clinical assistant professor at LAU's School of Pharmacy. "Pharmacists are the drugs experts, so we can contribute by informing the public about the correct intake of medicines and their side effects."
For nutrition student Marya Hanna, the fair in fact benefited students and public alike. "We are providing a service but also learning from the community," says Hanna, "we can understand how people look at things and find new ways to convey a message that will succeed in triggering change."