Leave your mark, plant a tree
More than 500 students participate in LAU's first Plant your Class Tree campaign raising over $5,000.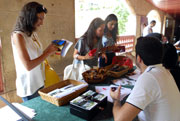 Students donated at Development Office stands during cap and gown collection and commencement exercises rehearsals on both campuses.
Click on photo above for larger version.
The Plant your Class Tree 2012 campaign, recently launched by the Development Office on both campuses, involved 505 students and raised more than $5,000 that will be channeled as financial aid.
This new initiative began in June in parallel with the preparations of the commencement ceremonies.
"This project gives the class of 2012 a unifying project and enduring legacy; there will always be a tree on campus that reminds the entire LAU community of this class," says Dr. Elise Salem, LAU vice president for Student Development and Enrollment Management. "This campaign materializes the idea of being an alumnus/a, who will remain connected to the campus through a beautiful tree, symbol of growth," she adds.
Referring to the successful completion of the initiative, Lana Abou Teen, associate director of Development and coordinator of the campaign says, "This was initially considered as a pilot project. We were really impressed by graduating students' enthusiasm to contribute toward helping needy and deserving students while also leaving behind a tree in their class' name, one on each campus, as a lifetime mark at their alma mater."
Rayan Zgheib, a contributor to the campaign, agrees. "LAU has offered me a lot, starting with education, extra-curricular activities, friendships, and much more. It is time for me to say thank you," he says.
After listening to Abou Teen describe the project with palpable, enthusiasm and passion, Dr. Mars Semaan, dean of students in Byblos knew it was going to be a success. "Our graduating students came through with flying colors, a testimony to LAU's success in its implementation of its core values."
Roy Riachi, another donor to the campaign, looks at the campaign from a different perspective. "I can imagine LAU as the roots of the tree, and the tree itself as the student. This project embodies this relationship between LAU and "me" the student," he says. For his colleague Maral Torossian the class tree is a symbol of the students' hard work and countless hours of studying.
"The Plant your Class Tree campaign symbolizes growth and development and engages graduates at a very early stage in implementing the value of giving," says Dr. Raed Mohsen, dean of students in Beirut.
LAU has decided to make this first-of-its-kind campaign a yearly event.