Lebanese Media's Biggest Names Descend Upon LAU for MedLeb Conference
The Department of Communication Arts hosts MedLeb's first academic conference on Lebanese media education and its future.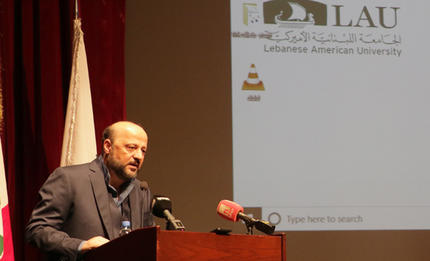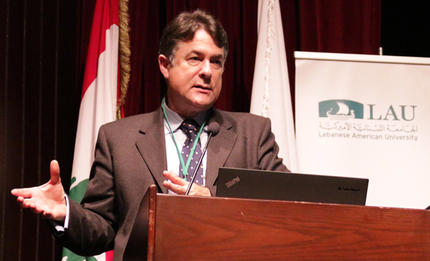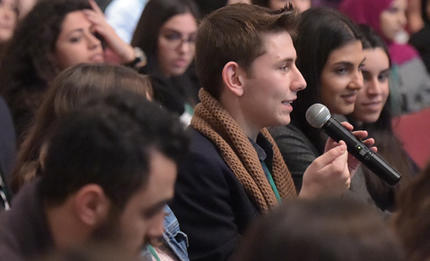 One of LAU's busiest conferences of the year took place over two days on the Beirut campus, drawing hundreds of media personalities, activists, academics and students. Hosted by the Department of Communication Arts on December 8 and 9, it was the first academic conference of the Association of Media Educators in Lebanon (MedLeb).
Founded in 2017, MedLeb is an independent nonprofit organization that aims to promote cooperation among journalists and communications and media programs, advance scientific research, elevate curricular standards, and advance media literacy in Lebanese society. The Department of Communication Arts proposed the idea for the association in January 2017, when the information minister invited communications and media programs at Lebanese universities to propose ideas for elevating media education and journalism in the country.
The conference, which was held under the patronage of Lebanese Information Minister Melhem Riachy and co-sponsored by Deutsche Welle Akademie and the European Union, attracted more than 400 attendees, who together represented 20 universities and dozens of media institutions and civil-society organizations. Over 40 speakers – among them educators, journalists and politicians – presented on media education, research and production.
In his opening word, Chair of the Department of Communication Arts Jad Melki introduced LAU President Joseph G. Jabbra, Minister Riachy, Information Ministry Director General Hassan Falha, and Mirna Abou Zeid, representative of the Association of Media Educators in Lebanon.
"Media people are the seekers of truth, the providers of reliable facts, and objective opinion leaders," Jabbra told the large crowd. He reiterated his call for revolutionizing not just the curricula of media education, "but the entire curricula that we offer to our students in universities."
Riachy, for his part, praised MedLeb's work to raise the standards of journalism in Lebanon and connect the industry with academia. He also announced a planned overhaul of the Information Ministry. "The ministry will not remain the same. It will acquire a new structure, which is currently under study, to transition it in content and in form to a ministry for communication and dialogue."
The new ministry "will only have among its new employees media students and members of the media academy in Lebanon," he added to raucous applause from the audience.
The conference – which included panels on subjects as diverse as new business models, ethical standards, continuing education and social media – ended with a three-hour workshop on Peace Journalism held by keynote speaker Jake Lynch, chair of the Department of Peace and Conflict Studies at the University of Sydney.
Melki said the conference demonstrated that "the Department of Communication Arts is posed to lead Lebanese and Arab universities in their efforts to elevate media education and research, and advance freedom of expression and the press."
The ever-changing media industry, he noted, has allowed for more non-conventional opportunities for media graduates, even though some students in attendance voiced concerns over future employment.
LAU Communication Arts graduate Mia Cheheyab said she was looking for a job after completing an internship at The Daily Star newspaper. "The job market for sure is in a bad place," she said. This has led her to apply to NGOs and public relations and marketing companies.
Multimedia Journalism student Ahmed Karakira said that while he is interested in television, he is finding that it is important to "accommodate the demands of the industry." The future of the trade "is social media and multimedia. And I have to adapt," he said.
Addressing the issue of employment, Melki said the conference led to "a strong commitment from media owners to engage our students and open doors for them to find work and internships." He said the department has agreed with several prominent institutions, including LBCI and al-Jadeed TV, "to brainstorm about a platform to showcase students' talents and creative and journalistic work."
Another result of the conference, which will be outlined in a forthcoming recommendations report by the MedLeb Executive Committee, includes establishing career fairs for communications and media students, and developing workshops that focus on research skills and methodology.
Communication Arts students at LAU express their pride in the department's mission to #ReinventCommunication
Watch the full video: http://comm.lau.edu.lb