Lebanon: One flower at a time
 Ahmad Houri's passion for the outdoors inspired him and his wife, Nisrine Machaka Houri, to capture hundreds of species of wildflowers on film. The couple began collecting data and pictures in 1998, when their hikes into the hills of Lebanon…
Ahmad Houri's passion for the outdoors inspired him and his wife, Nisrine Machaka Houri, to capture hundreds of species of wildflowers on film. The couple began collecting data and pictures in 1998, when their hikes into the hills of Lebanon introduced them to some of the most beautiful flowers they'd ever seen. With no formal field guides available to help them identify the flowers, they began the arduous process of documenting each flower they found and photographing it and researching it.
The initial result was The Photographic Guide to the Wild Flowers of Lebanon (2001), a book featuring 240 wildflowers of Lebanon. This year, to complement the book and make their data accessible to all, the Houris launched a fully searchable online version of their guide. In an interview, the Houris explained how the project got started and what the couple has planned for the future.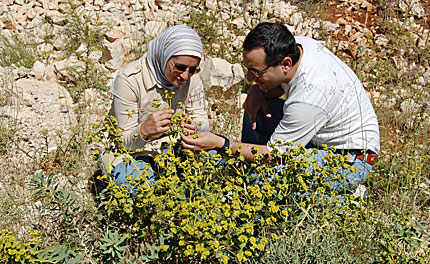 Nisrine and Ahmad Houri on a recent fieldtrip.
Q. Why did you undertake to capture all of Lebanon's wild flowers on film?
A. This project started from a true love of nature. When we used to go on hiking trips in some of the more remote areas of Lebanon, we were constantly faced with the question "What is this flower?" and whether it has something interesting about it. This project started from a very small collection of some of the most beautiful flowers that I and my wife simply wanted to know the names of. Having limited resources and no local field guides meant that this was going to be a difficult task. Accordingly, we took it upon ourselves to identify the flowers and put them in a guide format so that any nature lover can have it in their pocket as they walk around. Once that idea was firmly established, the collection quickly expanded. My wife developed a fascination in flower identification and later followed it up with formal study and obtained a postgraduate diploma in biodiversity conservation and management from the University of London. I, on the other hand, worked on improving my photography techniques and obtained a certification from the New York Institute of Photography.
Q. When did you begin photographing and how long has it taken so far? And, are you finished or are there still wildflowers yet to be photographed?
A. I began photographing wild flowers in 1998 and have been active since. My collection has now thousands of pictures for hundreds of species. With more than 4,000 different species of plants in Lebanon, it would be extremely difficult for anyone to say that they have been able to capture them all on film. A project aiming at photographing all of the wild flowers of Lebanon is a very expensive and time-consuming undertaking.
Q. What can readers learn from your book?
A. The main objective of the book is the proper identification of flowers. Knowing the scientific name, one can learn all about the plant on their own. However, I have made it a point to mention a couple of lines on medicinal or toxic uses in addition to identifying the location and month when the picture was taken so that anyone who wishes to find the plant again may be able to do so with relative ease. On a more general objective, I have always been faced with the question: Do we have all those flowers in Lebanon? And the answer is that we actually have in Lebanon 20 times those flowers, but it is always a good introduction for people to start with this book or web site. This makes people more aware of the diversity of flora in Lebanon and maybe encourages them to put in some effort for the protection of nature. In order to partially cover this information gap, I am planning to publish another volume of my book with around 400 new flowers included, after which I plan to undertake building up a comprehensive web-based database of wildflowers of Lebanon. I am still looking for potential sponsors of both projects.
Q. Is there a national flower for Lebanon? If so, which one is it and why was it chosen?
A. As far as I know, Lebanon does not have a national flower, although we do have a national tree (the cedar). There are several flowers that may be nominated for that classification: Iris Sofrana (the Iris of Sawfar); Geranium Libani, the endangered Cyclamen species, Silene makmeliana (named after Makmel mountain) and several others that have been named after famous Lebanese locations or figures. Some of these plants are endemic to Lebanon and cannot be found anywhere else.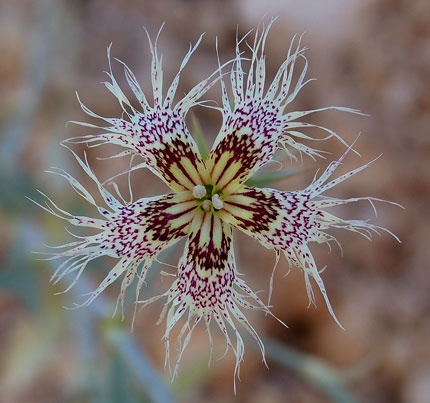 The Dianthus libanotis is one of the species Houri proposes as the national flower of Lebanon.
Q. What's next?
A. I have been getting some very encouraging feedback on the website that has motivated me to develop a full-scale database that might include more than 3,000 plants!