Lecture on alternative medicine kicks off yearly alumni activities
Reiki, a form of complementary and alternative medicine, stimulates the body's energy centers to improve health, says the speaker.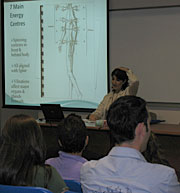 Reiki practitioner Farida Khizam shows the seven main energy centers, or chakras, of the body.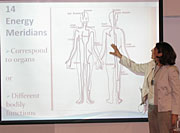 Energy meridians are like electrical circuits in the body, said Khizam. "If there is a fault in one part of the circuit, it will affect the other parts of the body," she explained.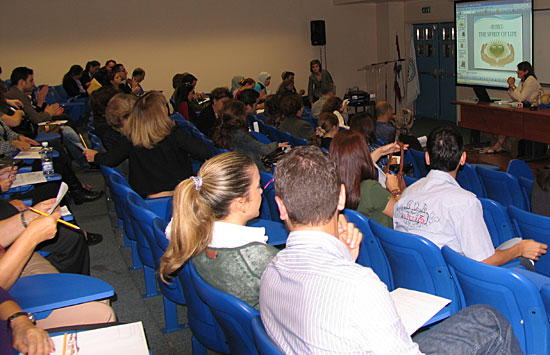 Attendees asked questions and gave their feedback throughout the interactive lecture.
Click on any photo above to view all three images
Farida Khizam started her lecture on reiki, a form of complementary and alternative medicine, at LAU Beirut on November 6 by asking attendees to hover their hands over their heads and feel different amounts of heat, while checking their pulse for varying rhythms. The purpose of the exercise was to show that we pick up on electromagnetic and biomagnetic waves in and around our bodies.
The lecture, which gave a thorough overview of reiki, was the first activity organized by the Alumni Relations office for this academic year.
Khizam, a pharmacist and reiki practitioner, said that reiki, which means "spirit of life," originated in Japan thousands of years ago. It is a method of natural healing that uses electromagnetic fields in and around the body to stimulate the body's energy channels and improve health, she explained.
According to Khizam, reiki helps relieve stress; build immunity to fight illnesses; reduce pain; overcome addictions; fight insomnia; promote wound healing; reduce blood pressure; aid pregnancy, childbirth and lactation; and enhance personal development.
Addressing the skeptics, Khizam explained, "It's not a religion and it's not a dogma. It's a health practice that enhances and is complementary to medical treatments."
Khizam believes that conventional medicine should definitely be used in certain cases. "However, I also think that [mainstream] medicines have a limited role in stress-related illnesses," which are considered to be 80 percent of diseases, she adds.
When possible, Khizam encourages that we should "listen to our bodies … look into what is going wrong rather than suppressing the pain [with medication]."
In a typical session, Khizam speaks to clients and asks them to fill out a questionnaire to familiarize herself with their goals for the session. When the client lies down, she places her hands on or above the body's seven chakras, or energy centers in the body that are situated on the seven endocrine glands, stimulating energy flow.
For people with insomnia, "I would work on their crown chakra, because it responds to the pineal gland, and the pineal gland secretes a hormone that tells us when to wake up and when to go to sleep," Khizam explained.
"It's your body regulating itself. All I'm doing is facilitating that process," she said. "You are relying on your body's own mechanisms to heal itself."
Sometimes reiki is used for deep relaxation, and often clients go into alpha sleep — the semi-awake state before falling asleep.
Khizam holds a pharmacy degree from the University of South Australia. She also has a master's level in reiki and practices at Lifestyles Health Club & Spa in Beirut, as well as writes for local publications.
The Alumni Relations office has at least three more lectures planned for this academic year.