Lecture on "inextricable link" between U.S. politics and religion
"You can't study politics without understanding religion," says Dr. Sam Potolicchio from Georgetown University.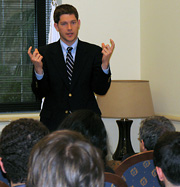 "You can't study politics without understanding religion," says Dr. Sam Potolicchio, Georgetown University visiting assistant professor, during an LAU lecture.
"In the United States, there are two things you are told not to talk about, first politics, and second religion," Dr. Sam Potolicchio told an audience of students and faculty during a lecture organized by LAU's Department of Humanities. "But we are going to talk about both today," he added.
Potolicchio, a visiting assistant professor of American politics & public affairs and research methods at Georgetown University, in Washington, D.C., gave the presentation, titled "The United States: The Economic Model of Religion and Politics," in LAU Beirut's Irwin Hall Faculty Lounge on March 10.
Potolicchio addressed the religiosity of Americans and gave a series of reasons why understanding religion in the United States could lead to a better understanding of its politics.
The American professor argued that scholars of secularization theory, who have for years been predicting the demise of religion, have been wrong. "If you actually look at the data across the world, you see an increase in religious observance, particularly in the last 50 years."
Americans have certainly not been exempt from this trend and are "very religious," he pointed out. Statistics show that 90 percent of Americans are religious, 80 percent consider religion to be important or very important, and 60 percent frequently attend some sort of church service.
"Religious practice is higher in the United States as compared to other Western countries because religion has become inextricably political and it has been so since the founding of the country," Potolicchio told the audience.
He added: "Americans have come to rely on the fact that politicians are going to be religious. At the legal level, there is of course the separation of church and state, but the actors who compose the government are plainly religious."
And religion isn't going anywhere any time soon, he argued.
According to Potolicchio, unlike economic superpowers that have changed over time, three major powers have dominated the realm of religion over the last two millennia: Islam, Judaism and Christianity. "I can almost guarantee you that these three religions will be the major religions a century from now, two centuries from now, three centuries from now," he added.
He recommended that typically secular American political scientists need to start including religion in the political equation to better predict where the religion trend is going in the United States. "This could have an effect on policy, on diplomacy, on international relations."
According to Dr. Vahid Behmardi, chairperson of LAU's Department of Humanities, the lecture attracted the highest number of students than all events organized by the department over the last two years. He estimates that out of around 50 people who attended, only four were faculty and the rest were students who came independently.
"I think that maybe this topic was particularly attractive and interesting," says Behmardi. "Politics, religion, the United States as a model — these are appealing issues to many students, especially those from the social and political sciences programs."
At Georgetown, Potolicchio has taught courses on presidential rhetoric, religion and politics, Constitutional Law, and the U.S. political system. He is the lecturer on American Federalism for the Open World Leadership program at the Library of Congress, where he speaks weekly to visiting dignitaries from the post-Soviet republics. He has delivered keynote lectures in the Czech Republic, Greece, Croatia, Bosnia, Serbia, Montenegro, Albania and Bulgaria.