Let there be music
Assistant Professor of Music Martín Loyato taps into the student body's unexplored musical potential.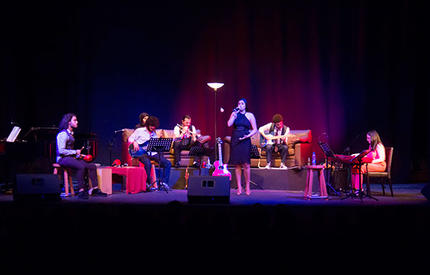 "I'm sure there are a lot of talented people in LAU, but if they keep hiding, what good are they? Come out, come out wherever you are … Please … " joked Jawad El-Mawla, a Performing Arts major at LAU Beirut.
There is an element of truth to what the 20-year-old student had to say. LAU's major productions have been able to bring out the untapped theatrical talents of students in various fields, from psychology to economics. The same is being done for the musical abilities of many students through biannual major music productions directed by Martín Loyato, assistant professor of music in LAU's Communication Arts Department. Loyato also wishes to expand the university's musical curriculum by introducing a selection of classes that touch upon the subject.
The Argentinian director already has four productions under his belt. Pachamama (Fall 2014) WEB (Spring 2014), Vadis Quo (Fall 2015), and last but not least his most recent Jazz in the Living Room. But these are not just music shows. "They are interdisciplinary shows," explains Loyato who is always looking for a deeper meaning to deliver to the audience.
Thus far, the shows have dealt with a range of issues that continue to plague the world. Pachamama, which stands for mother earth, the indigenous goddess in Latin America, was about how humans are destroying the planet. The entire set was formed of plastic bags and other recyclable material. WEB explored the effects of social media on the spectators by inviting them to tweet and write on a Facebook wall displayed on a large screen onstage. Loyato was inspired to do so after witnessing students leaving a class glued to their mobile phone screens. Vadis Quo brought home the issue of social media and news brainwashing. According to Loyato, "We are hit by so much information daily, but probably 90 percent is untrue." And so the director set out to blend live performance with prerecorded issues. Jazz in the Living Room, the musician's most recent production, was an exercise in listening and improvising through the use of one of music's most complex genres.
However, Loyato believes that what really counts is not the show itself but the building process and the work everyone puts into it. "I think it is good to bring the music culture to the students," explains the director who maintains that the students involved should never do something simply for the sake of doing it. "Even if they're writing a piece of music I want them to think it will last a hundred years, if they don't do that it's meaningless, they won't put their heart and soul into it."
The productions also provide students with a chance to work in a real team-building environment and bring passion to whatever they do. Although the director makes the final decisions, it is all about how much time and effort the students put into the work and their creative contributions during the rehearsals. Along with new music courses, Loyato is already contemplating his next production, a musical written entirely by students.