Lifting the lid off the NSA
International journalist James Bamford speaks to LAU students about the methods and practices of the National Security Agency.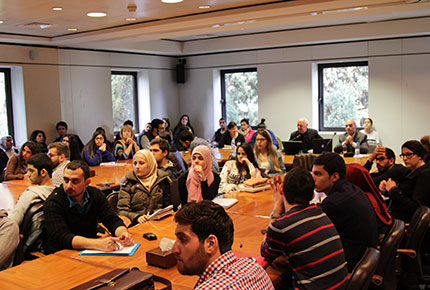 Whether your calls, email and web browsing are being routed through microwave transmissions, satellite signals or undersea cables, the National Security Agency (NSA) has a way to intercept, store and analyze them. This was the message of journalist and NSA specialist James Bamford to dozens of LAU students at a special lecture on March 3.
Bamford has written three books about the NSA, an American agency founded in 1952 off the back of a deciphering unit established during World War II. Once a modest outfit, its headquarters is now a secret city in Maryland that boasts 100 buildings and 37,000 cars and handles 70,000 pieces of mail per day. Such information was among the many engaging slides Bamford presented during his presentation of the facts and figures revealed by whistleblower Edward Snowdon in 2013.
"The NSA was an instrument of the Cold War. They then reinvented themselves as an anti-terrorist organization," said Bamford. The agency's budget doubled after 9/11, when Islamist terrorists flew planes into New York's twin towers. But despite rhetoric about protecting the U.S. against terrorism, the NSA gathers intelligence about citizens all across the world, including its own.
According to Bamford, in addition to its Maryland headquarters, the NSA has listening posts worldwide that intercept and store data traveling through the skies and space. One such listening post can be found in Oman. Bamford also highlighted the partnerships the NSA had with the intelligence agencies of Jordan, Saudi Arabia and the U.A.E.
"These countries presumably know that the NSA shares information it gathers with Israel," said Bamford, "which uses personal information about the sexuality, infidelity, medical conditions and financial problems of Palestinians to coerce them into collaborating." Bamford believes that action should be taken to prosecute both the U.S. and Israel under international law for this breach of the Declaration of Human Rights. Legal action and whistleblowers, says Bamford, are the only way to combat such behavior.
While no U.S. law addresses the privacy of foreigners, warrants are required to intercept and store data on Americans. "Of the nearly 34,000 warrants requested by the NSA from a secret court during the past 34 years, only 11 were denied," says Bamford, highlighting the extent of the agency's power.
With the head of the NSA now leading all the cyber units of the army, navy and air force, the agency's power is likely to continue growing. Their budget, now at about $11 billion, was the only intelligence agency budget to increase last year. "They use scaremongering to insist their intelligence is necessary to combat terrorism. But four times as many people died from dog bites last year than from terrorist acts," said Bamford.
Despite the expense and monstrous amounts of data collected, the agency was recently forced to admit that the gathered intelligence had helped thwart only one attempted terrorist attack. "They missed the Boston bombings. They missed the attempted Times Square bombing. They missed 9/11, despite the terrorist residing for days in a motel only a few hundred meters from their Maryland headquarters."