"Lighting Lamps" exhibit at LAU: The Middle East through the eyes of cartoonists
As part of a British Council project, eight Arab and British artists' drawings on the region were showcased at LAU's Sheikh Zayed Hall.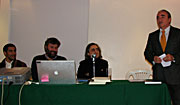 From right: Dr. Ramez Maluf, IMTR director; and cartoonists Armand Homsi (Lebanon), Steve Bell (UK), and Yazeed Alharthi (Saudi Arabia).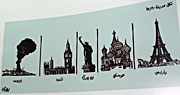 Homsi's An-Nahar cartoon (2008) showing dark smoke as being Beirut's landmark.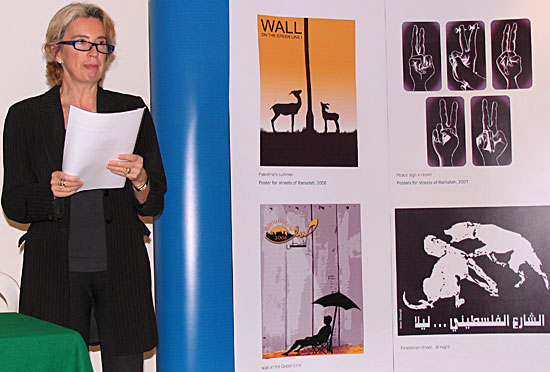 At the opening ceremony: Amanda Burrell, British Council–Lebanon director, speaking next to a stand with drawings from Palestine.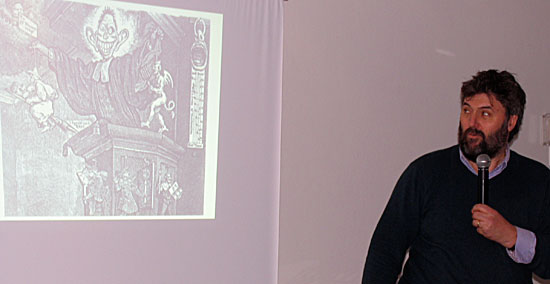 Bell speaking about his work published in the Guardian.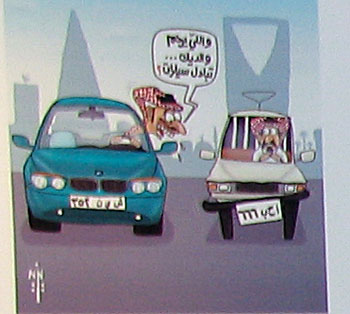 Alharthi's cartoon about obsession with car plates.

Click on any photo above to view all five images
Eiffel Tower in Paris, Saint Basil's Cathedral in Moscow, Statue of Liberty in New York, Big Ben in London and … a tower of after-blast smoke in Beirut. That is how An-Nahar cartoonist Armand Homsi believes the world sees Lebanon.

Homsi, along with Yazeed Alharthi (Saudi Arabia), Ali Ferzat (Syria), Emad Hajjaj (Jordan), Mostafa Hussein (Egypt), Jalal Rifai (Jordan), and Zan Studios represented by Amer Shomali (Palestine), showcased their cartoons at the "Lighting Lamps" exhibition January 8–18 at LAU's Sheikh Zayed Hall.

"The drawings hold much more than what they seem and therefore are what we call 'Lighting Lamps,' " said Steve Bell, the award-winning British cartoonist of the Guardian newspaper. He attended the opening and exhibited some of his works too.

The cartoons of most of the Arab artists tackled socio-economic issues in their countries, such as marriage, plastic surgery, inflation, unemployment, poverty, insolvency, excessive consumption, wasta (use of connections), corruption.

The absurdities of daily life were exposed in such works as Homsi's silhouettes of starlets who use charm to compensate for their lack of talent, Alharthi's depiction of people's obsession with car registration plates, and Ferzat's illustration of excessively strict border security rules.

"We had to choose non-political cartoons, which is very difficult for us because we always pick on politicians," said Homsi. However, several images still hinted at political, religious, and confessional issues, such as the Israeli-Palestinian conflict, and the explosions and assassinations in Lebanon.

Politics was more overtly seen in Bell's works that included caricatures of George W. Bush and raised such issues as the Iraq war and the 2000 U.S. elections.

The event had a special importance for Alharthi, an LAU pharmacy graduate. "I am really happy to be in my old university again," he said.

The exhibit, which was hosted by LAU's Institute for Media Training and Research, constitutes the last stage of the Media in Society project that was launched in 2004 by the British Council in partnership with the Guardian Foundation and the BBC World Service Trust.

The project aims at building a network of media professionals from six Arab countries—Egypt, Jordan, Lebanon, Saudi Arabia, Syria, and the Palestinian Territories—and the UK, through conferences, training sessions, field trips, and exhibits.

The goal is to help experts raise awareness on major social issues in the region more effectively through print publications, radio, TV, the Internet, photojournalism, animation, and cartoons.

Media in Society "equally opens a dialogue and brings the journalists from the Arab world as well as those from Great Britain to better understand each other's worlds," said Amanda Burrell, director of British Council–Lebanon.

"Lighting Lamps" was held at the Guardian newsroom in London for two weeks in July 2008, enjoying significant interest from visitors, according to a British Council press release. It moved to Cairo early this month, and will be repeated in all the participating countries.

The cartoons can also be viewed online.