Literature is Fun!
The Department of English and the Page Turner student book club organize Literature Day to engage students in reading.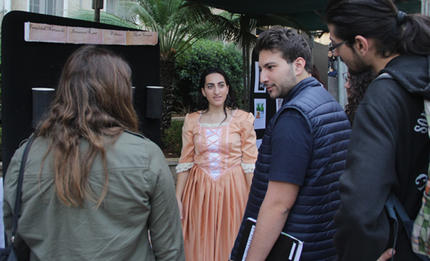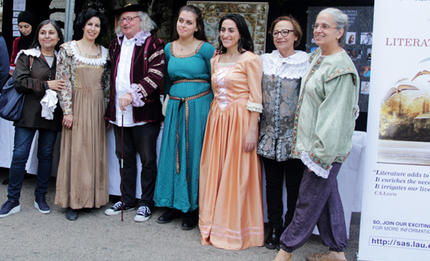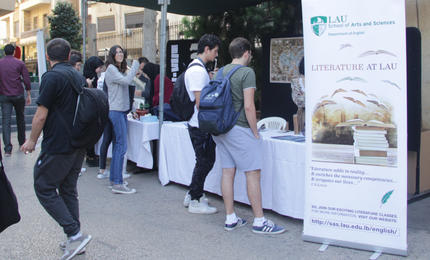 What is the Iliad about? Who is the Half-Blood Prince? Students tested their knowledge during a day of fun and games hosted by the Department of English in collaboration with the Page Turner Book Club.
At the Literature Day event, held on Beirut campus on November 17, four game booths were set up, each representing a different cultural era or literary movement: Islamic-era literature, Greek mythology, Renaissance and Enlightenment, and even one for Harry Potter. Club and faculty members dressed up for the occasion in costumes lent by the theater.
Students scurried around the Upper Gate area, trying to answer questions, frantically referring to their phones or friends for help. The prize at the end of each round was a sweet treat. Faculty members were on standby to explain to curious passersby about the English program and to invite the more hesitant to discover their inner reader.
The activity took place under the supervision of Associate Professor of Cultural Studies, English and Comparative Literature Kristiaan Aercke, Associate Professor of English Studies Luma Balaa, and Mounawar Abbouchi of the Department of English.
Abbouchi said the department was using Literature Day to inform people about their program, which includes an emphasis on literature, language and creative writing. "We also want to engage them more in the actual culture behind the program. We want to get people to pass that initial trepidation when they think of literature and help them see that it can be fun and engaging," she said.
Aercke, dressed as a 17th-century gentleman, was thrilled with the students' energy and involvement in the games. "We love to dress up, and we think this is important because it makes students aware that literature is not boring, that literature is alive," he said.
Managing the Arabic literature booth, Multimedia Journalism student Ahmed Karakira said the game questions about Islamic-era poems and poets helped refresh students' memories of past lessons in school. "Interest in Arabic literature is decreasing, and this is an event that can boost it," he added.
The students who participated in the games came from various disciplines. Mechatronics student Ali Mezher found the themes, costumes and entire ambiance to be very engaging. "I am already a bookworm, but I am happy that this event is also encouraging others to read, because reading is a beautiful thing," he said.
The organizers made sure that the games included modern literature as well, integrating quotes by American suspense writer Dan Brown and Algerian author Ahlam Mosteghanemi.
Political Science and International Relations student Majdoulin Al-Mwaka said the club helped her connect with other students who loved to read. "Sometimes there are people who love books, but they don't feel there is an atmosphere for that."
Computer Science student Charbel Hanna was passing by and thought it would be fun to participate. He also had an interesting take on the event: "People like free stuff, and everyone is playing, so they are bound to learn something new."
At the end of the event, students took part in a scavenger hunt, following clues that led them to books in the library, with the winners receiving gift vouchers.
The Department of English plans to make Literature Day an annual campus event.