Looking toward the future of graduate medical education
LAU's Gilbert and Rose-Marie Chagoury School of Medicine hosts first graduate medical education summit.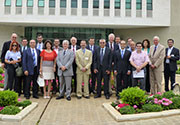 International, regional and local medical experts converged at LAU Byblos to take part in the first graduate medical education summit.
Click to view larger version.
Over forty distinguished international, regional and local medical experts converged at LAU Byblos on July 26-28 to take part in the first graduate medical education (GME) summit. The purpose of the event was to devise solutions for the impeding challenges that GME faces in many parts of the world, especially in Lebanon and the region.
The international conference was preceded by several days of evening seminars and site visits to several medical schools and teaching hospitals in the country. On July 25, the team met with Dr. Youssef Comair, the Dean of LAU's School of Medicine, and toured the University Medical Center—Rizk Hospital (LAU Medical Center–Rizk Hospital).
"LAU's medical school is committed to the highest standards," said Dr. Comair, adding, "This is why LAU is proud to be one of the drivers of the conversation on how to improve graduate medical education."
The summit was planned by a joint effort between Dr. James D. Smith, President of Medical Education International (MEI) and Dr. Nabil M. Jabbour, Fellowship Program Director and chief of the retina section at West Virginia University.
Dr. Jabbour explained how he, along with Dr. Charbel Fahd, LAU's chief ophthalmologist, and other medical education experts started looking for a way to begin the dialogue on GME in Lebanon. "LAU was gracious enough to host our summit even though this event was open to other institutions in the country and the region to participate on equal basis," he said acknowledging the support of LAU's Vice President and General Counsel Dr. Cedar Mansour.
A speaker at the event, Dr. Jacques Mokhbat, associate dean of post graduate medical education, explained that Lebanon, a country with a population of about four million has seven medical schools, each with its own residency program. Pointing to a lack of standardization, he outlined several challenges associated with such a situation: "limited exposure to a variety of cases and limited number of performed procedures," Mokhbat said.
"As a partial remedy, medical students are encouraged to take advantage of agreements with international institutions to complete subspecialty training abroad," he explained.
However, according to Fahd it is becoming increasingly more difficult for Lebanese students to continue their training abroad due to new restrictions. "Rather than face an uncertain future, a collaborative effort needs to be forged by all stake holders of the medical profession in the country to counteract this worrying trend," he said.
To offer a perspective from an accrediting agency, the Accreditation Council of Graduate Medical Education (ACGME) was unofficially represented at the summit by its Accreditation Field Representative Dr. David Larson, a plastic surgeon from the Medical College of Wisconsin, and Dr. Noel Jabbour, a pediatric otolaryngologist from the University of Pittsburgh, and member of the Otolaryngology Milestones Working Group for ACGME.
Larson discussed the forms of evaluation and assessment in ACGME's toolbox, allowing summit participants to ask questions and propose solutions to encourage the standardization of GME in Lebanon. A great emphasis was placed on the use of information technology and computers.
"The goal is to bring about improvements that are part of a strategic plan put together to achieve standardization, accreditation and certification, rather than haphazard moves of limited, short-term and non-incremental value," insisted Dr. Jabbour.
Conference attendee Dr. Samiya Abijaoudeh, a neurosurgery resident at USEK wholeheartedly agreed. "The reason this summit is so interesting is because it is an opportunity to map out practical steps that further the efforts already underway, using examples from all over the world," she said.
This sentiment was echoed by all attendees who considered this event the laying of a corner stone for a sustained and progressive process based on teamwork and interaction between stakeholders who will identify the general goals to work toward. A second summit is already scheduled to take place next year.
Five of the seven participating medical schools - LAU, USJ, USEK, UB and AUB - were invited to become equal partners in this process and to help contribute to it from the ground up.
"The ancient city of Byblos exported the alphabet to the world, and we are here today to hopefully make it a place where medical education takes a leap forward. The region needs it," Jabbour told the audience.

Several organizations are key to the success of this project, including: The ForSight Foundation, Health Outreach to the Middle East (H.O.M.E.), ITegrators, Maghrabi Foundation, Medical Education International, The Ministry of Health in Egypt, Synergetics.