Mabrouk Beirut Class of 2015!
Over 1,150 students graduate at LAU Beirut in the presence of officials, family and friends.
"At LAU I have learned to be independent, more ambitious," says Mona Noureddine, holding the hand of her grandmother Amal who in turn looks at her first grandchild with pride. Noureddine, who graduated with a master's in international affairs, joined some 460 Beirut students from the schools of Arts and Sciences and Architecture who received their diplomas on the evening of June 26.
The sense of the students' maturity, accomplishment and leadership also resonated in the speech of valedictorian Nancy El Hajj. "At LAU, we have learned how to learn and we have been taught not so much what to think, but how to think … Without acknowledging it, we were walking every day through the doors of our college with our new found confidence, leadership and most importantly a sense of community," she said.
Honorary doctorate recipient former Minister of Culture Ghassan Salamé addressed the graduating students in a similar vein: "A mature university ought not only to think of the quality of your degree but also about the perfection of your mind, the elevation of your soul and of your capacity to reflect on your own trajectory" he said, adding, "The challenge before you is not only to live in your country but to help change it for the better, not only to complain about the region's turmoil but to help bringing back peace and prosperity, not only to understand the world you are inheriting but to help transform it."
The following evening saw the graduation of 713 business school students. Acknowledging that many of them will likely work abroad, honorary doctorate recipient renowned fashion designer Elie Saab encouraged the graduates to take pride in Lebanon. "Don't forget your country. Lebanon needs you. Boast of it wherever you are in the world," he exhorted. Taking on his own experience he also advised them to never be satisfied with what they achieve. "Ambition has no boundaries. Success requires perseverance. Your degrees are the key to this wide ever-changing world…"
Thanking all the faculty members who made his time at LAU so special, valedictorian and economics graduate Yasser Abbas gave special thanks to Dean of Students Raed Mohsen. "He's the guy you'd come to when you're in a pinch, so thank you for always being there for us." His fellow graduates clearly agreed, erupting in loud cheers and shouting out Mohsen's name.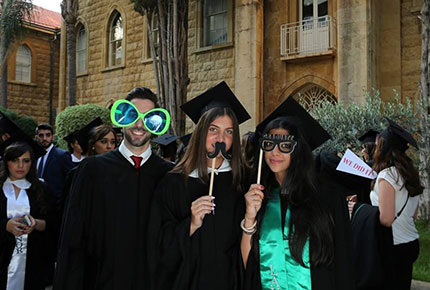 Students gather before the commencement to take celebratory pictures.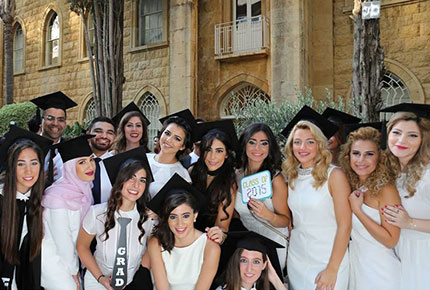 Over 1,150 students graduated at LAU Beirut in two separate ceremonies over the weekend.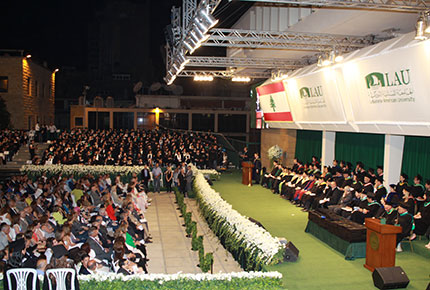 Campus was packed with officials, family and friends gathered to applaud the graduating students.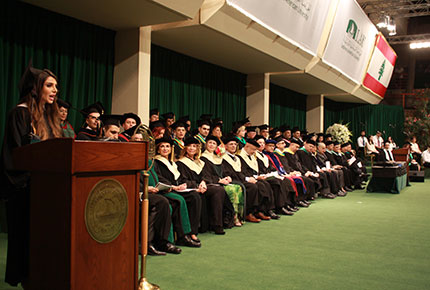 Valedictorian Nancy El Hajj thanked the faculty in her speech, praising them for emphasizing "not so much what to think, but how to think"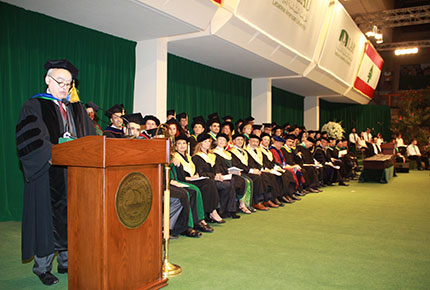 In an inspiring speech, honorary doctorate recipient Ghassan Salamé called on the graduates not only to understand the world they inherit but to transform it.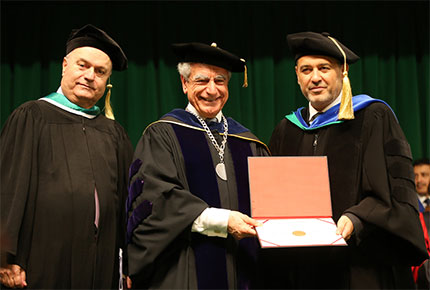 Honorary doctorate recipient Elie Saab encouraged the graduates to take pride in their country, and to place no boundaries on their ambition.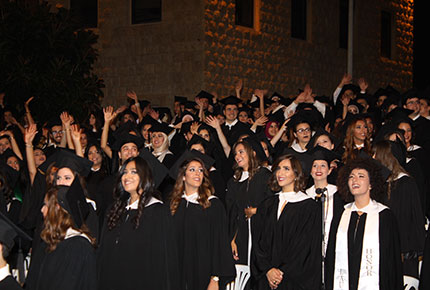 Mabrouk to the Class of 2015!