Mabrouk, LAU Byblos class of 2012
LAU Byblos holds its 2012 graduation ceremony on July 5.
Hundreds of friends and family proudly watched as 525 students celebrated the completion of their university degrees on Byblos campus on July 5.
Pride in academic achievement and the importance of societal leadership were the core themes of LAU President Dr. Joseph G. Jabbra's address to the graduates, LAU officials, dignitaries and family and friends. "We at LAU have attracted the best and brightest," he said.
Jabbra also discussed the context for the university's new five-year strategic plan, which is academically focused and aims to take LAU to the next level of scholastic excellence.
"We have attracted brilliant students, strengthened opportunities for student development, and kept our finances healthy," he said with palpable pride.
Jabbra concluded by saluting the graduates and offering a parting wish: "May you always find success, happiness, and satisfaction in your future careers. May you be ready and willing to help and comfort all who come to you in need. May you always live in the company of friends, exploring the richness of life and experiencing the joy of giving all your days."
Jabbra bestowed a doctorate of humane letters, honoris causa on two luminaries: Rizk Iskandar Rizk and MP Nehmé Y. Tohmé.
Rizk is a partner and co-owner of Rizk Foundation and Sannine as well as the chairman and managing director of Faraya-Mzaar Tourism and Sport Company.
"The pursuit of higher education and cultural enrichment is a vital component of a healthy citizenry; it fosters the ability to overcome day-to-day difficulties and face future challenges with confidence," said Rizk, echoing Jabbra's message of the importance of giving back to society.
Businessman and former minister MP Nehmé Y. Tohmé also received an honorary degree. He passed the torch to the graduates saying, "This university — one of the best — has given you the means to be flexible, and taught you to be determined."
"Our country needs citizens like you to lead the way to a better future," he added rousingly. "You are our future."
The valedictory address by electrical engineering graduate Anibal Sanjab focused on the critical support and mentorship of LAU's staff and faculty. "The success we attained was based on our determination and perseverance, but also the academic and emotional support of our surroundings."
Sanjab also stressed the importance of becoming productive members of society, reminding his classmates of the collective social responsibility that awaits them as young graduates.
Several awards were presented during the ceremony. The Torch Award for outstanding leadership in cooperation with others went to Marise Chemaly (Engineering), Peter Abi Ramia (Business), Joseph Jr. Sfeir (School of Arts and Sciences), Vincent Bou Fayad (Architecture and Design) and Patrick Tannous (Pharmacy) . The winners of the President's Award — a $1000 award in recognition of academic distinction — were Anibal Sanjab (Engineering), Charlotte Charbel (Arts and Science), Joumana Said (Business), Antoine Gebrayel (Pharmacy), Sybil Layous (Architecture and Design). The Riyad Nassar Award went to Oriane Chamoun (Engineering).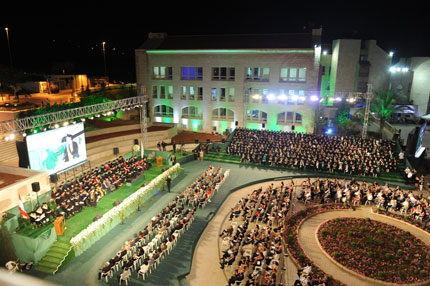 Some 525 students celebrated the completion of their university degrees.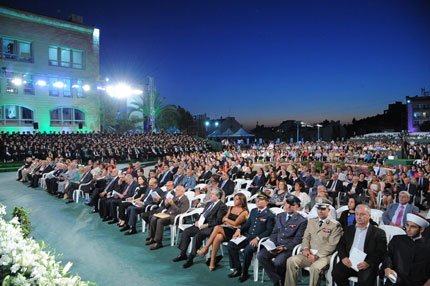 Family and friends attended the event alongside Lebanese and foreign officials.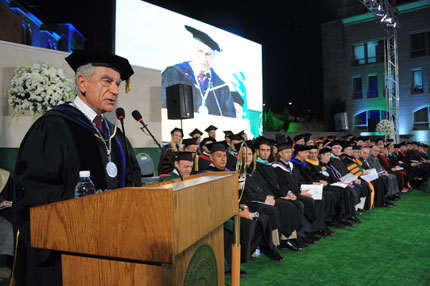 In his address, LAU President Dr. Joseph G. Jabbra stressed the importance of academic achievement and societal leadership.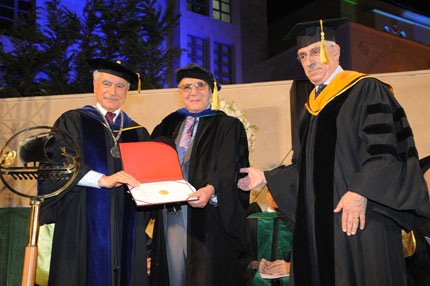 Rizk Iskandar Rizk receives an honorary doctorate from Dr. Jabbra and LAU Provost Dr. Abdallah Sfeir.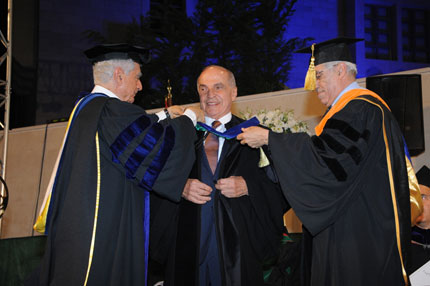 Dr. Jabbra and Dr. Sfeir bestow a doctorate in humane letters upon MP Nehmé Y. Tohmé.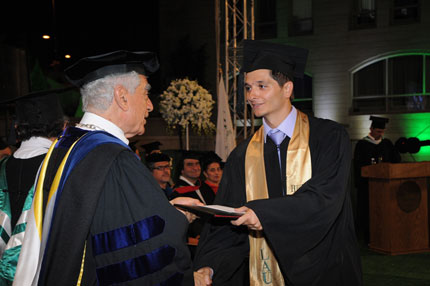 A student receives an academic distinction award from President Jabbra.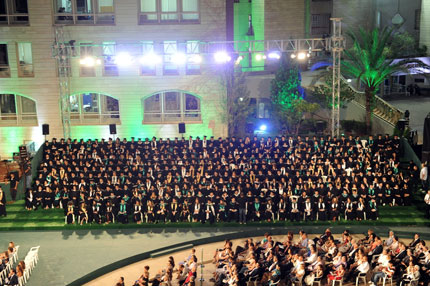 As 91 students graduated in Arts and Sciences, 148 graduated in Business, 120 in Pharmacy, 114 in Engineering, 49 in Architecture and Design and 3 Excelsior College Degrees.