Making the case for a civil state
Representatives of various sectors in Lebanon, including education, government and media, gathered at LAU Byblos for a full-day symposium to call for a civil Lebanese state.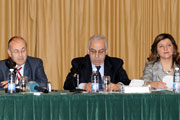 From left: Dr. Fuad Hashwa, dean of the School of Arts and Sciences in Byblos; Dr. Abdallah Sfeir, LAU provost; Dr. Nidale Daccache, assistant professor of Arabic at LAU and organizer of the symposium entitled "Towards a Civil State Culture."
Secular leaders called for a civil state culture in order to end decades of chaos and disaster fueled by sectarianism that continues to be a source of civil tension and conflict in Lebanon, at a symposium at LAU Byblos March 26.
Addressing the issue remains a top priority for leaders who support secularism in politics, from across diverse sectors in Lebanon — a country where civil marriage is forbidden and whose public officials are chosen based on their religious confessional affiliation.
"We're sick of it," says Dr. Nidale Daccache, assistant professor of Arabic at LAU, who began organizing the event last October, referring to sectarian attitudes in the country. "We need a civil state."
Organized by LAU's Humanities and Social Sciences Department in Byblos, the symposium gave the floor to about a dozen individuals representing various sectors in Lebanon including education, government and media.
The event began by introducing the concept of the civil state and how Lebanon can begin a transformation through the separation of religious and secular doctrines in government, and by the strengthening of the democratic electoral systems.
One of the first steps that must be taken, Daccache explains, is to educate people on what a civil state could look like, and what it could offer the citizen. Intellectuals could play a role by organizing workshops to encourage the Lebanese to think more critically about the issues surrounding their everyday lives, and to learn to respect and tolerate others regardless of religion or nationality.
"We can't establish a civil state if no one knows what it is," says Daccache.
During the symposium, it was agreed that a shift toward a civil state of pluralistic democracy as an alternative to the current sectarian system represents another critical step.
"We need to talk about our country and our history," asserted Daccache, adding, "We need to return to the rights forgotten in the constitution, which recognizes that the Lebanese state is the state of the citizen."
Daccache went on to describe how state-guaranteed rights have been appropriated by local leaders in communities, forcing citizens to appeal for support and protection among their sect leaders rather than the state.
The media was identified as an effective tool to help the spread of civil state culture by shedding light on civil society representatives — and including them in debates on key issues associated with the establishment of a civil state.
Speakers also encouraged a "culture of resistance" to the current system, calling for secular laws and a stronger role for women in politics.
University representatives talked about the role of higher education to achieve national integration.
Leaders agreed that education is key to turning the country around and can be the catalyst for change moving forward, if children are taught at a young age about their responsibilities and duties toward the state.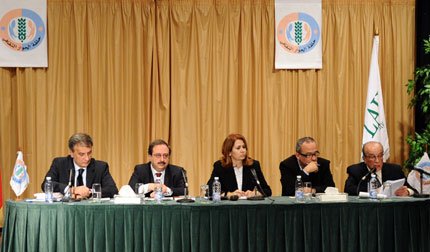 About a dozen secular-minded leaders participated in the daylong symposium. From left: Said el Ghraib, journalist from NBN television; Dr. Ghassan Moukheiber, member of parliament; Jamila Hussein, president of NGO Halaka El-Hiwar Athakafi; Pierre Abi Saab, journalist from Al-Akhbar newspaper; and Dr. Pierre Daccache, former member of parliament.