Sami Chakroun, a citizen of the world
LAU business student wins United Nations essay contest on the advantages of being multilingual.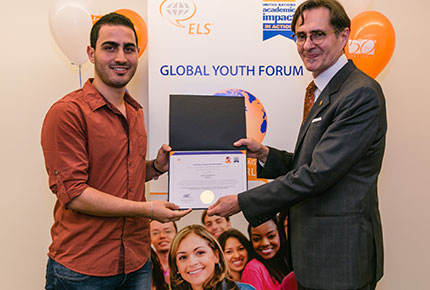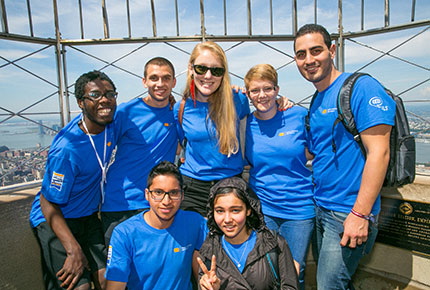 In a bid to promote the importance of multiculturalism, the United Nations launched a worldwide essay contest dubbed 'Many Languages, One Word.' Beating over 1,500 submissions, LAU business student Sami Chakroun was handed the prestigious award this summer.
"Although everyone who read my essay [entitled 'I am a citizen of the world'] told me it had a good chance of winning, the announcement came out so late that I'd almost given up hope. So, it was a great thrill and a huge honor to find out that I had been selected," enthuses Chakroun, an LAU Middle East Partnership Initiative-Tomorrow's Leaders scholar.
The international competition — 128 contestants from different countries — was open to university students over the age of eighteen. Organized jointly by the ELS Educational Services Inc. and the United Nations Academic Impact (UNAI), the event invited students from all over the world to reflect on the theme of global citizenship and the role that multilingualism plays in fostering this concept around the world.
Students were instructed to write their paper in one of the UN's official languages: Arabic, Chinese, English, French or Spanish. The only caveat was that the contestant was not permitted to write in his or her essay in their mother tongue nor in the language of their pre-university instruction.
Chakroun believes that his experiences at LAU helped him prepare for the competition. "The combination of having participated in the many Model United Nations events organized here at LAU by the Office of Civic Engagement and the fact that I am enrolled at a university outside of my home country, Tunisia, really helped me to become familiar with the themes of multilingualism and global citizenship," he says.
Although fluent in English, Arabic and German, Chakroun opted to write his essay in French. For him , the concept of global citizenship has become central to our society due to increased migration, mixed marriages and globalization. "While most of my high school friends in Tunisia generally choose to continue their studies in French or German, I opted to join an American university to expand my horizons — LAU has been a great environment to study in because of its emphasis on a global perspective."
Chakroun's prize consisted of a round-trip airfare and accommodation to take part in the five-day long Global Youth Forum at the United Nations' headquarter in New York City, where he and sixty other contest winners gave presentations on their winning essays.
The experience has left Chakroun feeling optimistic about the future. "I believe that to face the many challenges that are awaiting us and to ensure a happier outlook, we must first establish dialogue and mutual understanding between young people and the political authorities of the various countries in which they live."