MEA back to black: fifteen years of challenges
LAU's Leaders in Business lecture series hosts Mhammad Al Hout, chairman and director general of Middle East Airlines (MEA).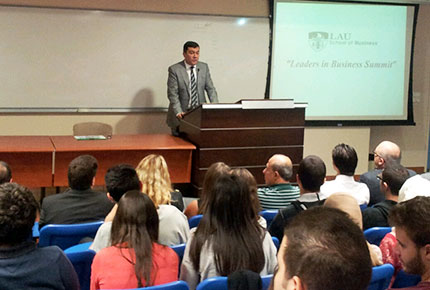 On October 31, Chairman and Director General of Middle East Airlines (MEA) Mhammad Al Hout, kicked off LAU's Leaders in Business lecture series with a presentation entitled "MEA back to black: Fifteen years of challenges."
Founded in 1945 by late Prime Minister Saeb Salam, MEA has a storied history and its perseverance is attributed to the ingenuity of its business model. The talk began with a highly emotive video of MEA's challenges and its ability to overcome them at all odds to operate as the national flag-carrier airline of Lebanon.
"In 1997, a few year after the war had ended, MEA was facing huge losses," said Al Hout. "We had to make some difficult decisions—so, we restructured everything to increase productivity and competitiveness," he explained.
Significant changes made to salvage the struggling company: operating costs were controlled and an alliance was signed with Air France, as well as other airlines, to reach destinations not serviced by MEA. The airline currently conducts flights to Asia, Europe and Africa.
Perhaps most controversially, MEA closed down uneconomical routes and terminated almost 50% of its work force to increase productivity and efficiency. "The most difficult decision we ever had to make was laying off a significant proportion of our staff," lamented Al Hout. However, he also presented the business rationale behind the choice that eventually propelled MEA to become a member of the SkyTeam airline alliance, the Arab Air Carriers Organization (AACO) and the International Air Transport Association (IATA).
"The reason our company was able to thrive is because it capitalized on its sources of strength: MEA's safety record, excelling in meeting financial obligations on time, Lebanese hospitality and human resources," he told a packed room.
"I have never seen a lecture hall so many students attending a lecture—people where even sitting on the floor," said fourth-year business student Hassan Ibrahim. "Many of us business students were eager to get an inside perspective of how MEA has been able to neutralize the negative effects of economic slowdown, reduction of tourism and regional tension," Ibrahim continued.
The event was hosted under the auspices of the School of Business, in step with its mission to encourage students to gain first-hand knowledge of the economic development in Lebanon and the region. According to Dr. Said Ladki, interim dean of the school, there are few local companies that match MEA's contribution to Lebanon's economy. "It is important for us to give our students access to leaders in the field and allow them to ask questions and share concerns," stressed Ladki. "As the chairman of MEA for the past thirteen years, Al Hout has a wealth of information and experience to share," he pointed out.
Students interested in the financial spreadsheets of MEA can obtain a copy at the School of Business.