Mirvat El-Sibai receives prestigious Shoman award for her research on cancer
LAU associate professor of Cell and Molecular Biology has been recognized by the Abdul Hameed Shoman Foundation for her distinguished body of research in cancer metastasis.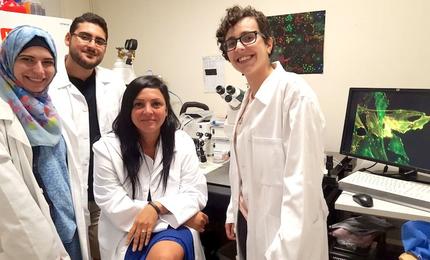 "I believe we need to reinforce a culture of research in Lebanon, and I've been nurturing it at LAU for many years," says Associate Professor of Cell and Molecular Biology Mirvat El-Sibai, who this month was named as a recipient of the Abdul Hameed Shoman Award for Arab Researchers.
El-Sibai was recognized by the Shoman Foundation for her extensive and impactful body of research, but the scientist is clearly as dedicated to the work and achievements of her students as she is to her own. "Our duty as scientists is to teach research," says El-Sibai who, since joining the university in 2009, has taught and mentored hundreds of students. Dozens have graduated with an M.S. in Biology from LAU and many went on to enroll in the Ph.D. program at The Einstein School of Medicine, El-Sibai's alma mater.
The cancer research work that El-Sibai established at LAU has helped attract several Ph.D. candidates, in addition to post-doctoral fellows and volunteers. Notably, the scientist developed a high-tech cell biology laboratory by introducing new techniques such as state-of-the-art live microscopy methods and single-cell assays to detect protein activation. "Ensuring we keep up with the latest technological advances has enabled us to be the first to make a number of discoveries," enthuses El-Sibai.
Many of those discoveries go against established dogma. One series of studies she conducted with her students revealed that proteins that act as tumor suppressors could also be oncogenes — genes that can potentially induce cancer. Another identified a specific protein, RhoA, long considered an inhibitor of cancer metastasis, as one that in fact promoted it.
"Other scientists are now replicating and confirming our findings, which have huge therapeutic implications," says El-Sibai, who encourages her students to publish. "Our master's students are listed as primary authors on published papers," she adds, noting that one student graduated with five papers to her name. "This is a very important part of our vision."
In addition to investigating the role and impact of proteins on the spread of cancer, El-Sibai and her team have been studying non-cancerous cells in a bid to compare their behavior with that of cancer cells. "We are looking at immune cells in order to find alternatives treatments," she explains. "Most patients today die from the side effects of available treatment and not from the cancer itself. We must look beyond chemotherapy."
Given the expanse and depth of her research and publishing history, it is no surprise that the Abdul Hameed Shoman Foundation — named after the founder of the Arab Bank — opted to recognize El-Sibai's work in the medical and health sciences, one of six categories of awards that aim to enrich the Arab scientific scene. Congratulating El-Sibai for this "very rewarding and meaningful accomplishment," LAU President Joseph G. Jabbra said: "Your success shows beyond the shadow of any doubt that hard and smart work and passionate dedication to a noble cause always pay off handsomely."