Moroccan and Lebanese anesthesiologists engage in role play
LAU's Clinical Simulation Center holds first-ever workshop on "Anesthesia Crisis Resource Management" in Lebanon as part of its continuous efforts to improve healthcare and patient safety.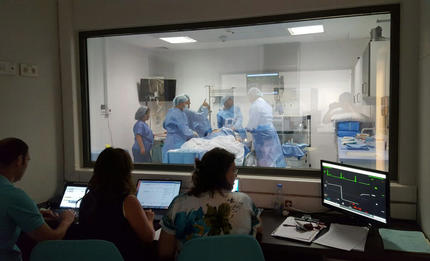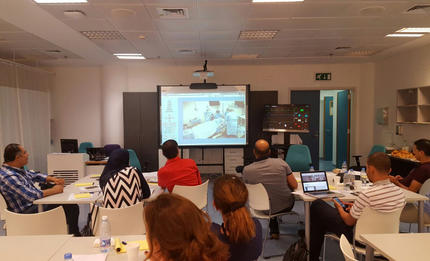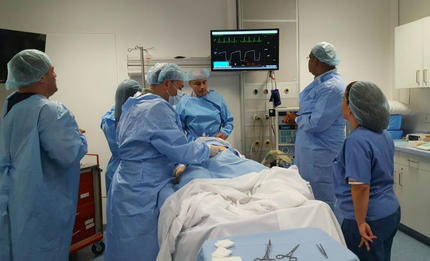 The first of its kind in Lebanon, a two-day course on "Anesthesia Crisis Resource Management" (ACRM), held at LAU's Clinical Simulation Center (LAU-CSC) on June 30 and July 1, offered participants the unique opportunity to practice managing anesthetic emergencies using patient simulation and real clinical teams. Sponsored by the biopharmaceutical company AbbVie, the workshop drew a total of 22 Lebanese anesthesiologists, nurse anesthetists, and technicians as well as anesthesiologists from Morocco.
"Crisis resource management (CRM) refers to the extremely important, but sometimes difficult to define, 'soft skills'—such as anticipation, planning, communication, leadership and assertiveness, distribution of workload and mobilization of help—that can make or break the function of a team," explained Associate Professor of Anesthesiology and LAU-CSC Director Vanda Abi Raad. "As a pioneer in education and training, the center is organizing ACRM courses since they are known to improve team performance and reduce errors. In addition, and fulfilling its role in community outreach, LAU-CSC has invited participants from remote areas of Lebanon."
The two-day course consisted of eight simulation scenarios—facilitated by Dr. Abi Raad, Dr. Hanane Barakat, anesthesiologist at LAU Medical Center ­– Rizk Hospital, and Dr. Nabil Mansour, anesthesiologist at Saint George Hospital— whereby teams of participants took turns to tackle a specific situation using high-fidelity full-body manikins. Each scenario was rounded off with a debriefing session.
The chief aim of the course was to train anesthesiologists to manage a variety of resources effectively in an emergency where sound medical and technical knowledge may not be sufficient. Such situations have been studied extensively in aviation, and many of the Cockpit Resource Management (CRM) concepts were adapted to anesthesiology, giving rise to the ACRM approach.
Participants from Lebanon underscored the relevance of the workshop to their profession. Dr. Hussein Sakr, anesthesiologist at Hermel Hospital in the Beqaa, remarked that it "enabled the anesthesia staff to organize their teams by choosing roles and identifying responsibilities, and to demonstrate good team interaction focusing on non-technical skills." Similarly, Dr. Paula Rizkallah, anesthesiologist at the Beirut Eye Specialist Hospital, was glad for "the opportunity to practice and manage efficiently and effectively anesthetic emergencies using full patient simulation and real clinical teams."
The ACRM course falls within LAU-CSC's mission to improve patient safety and healthcare by providing learners with opportunities to develop clinical competencies in a safe environment, and engage in interprofessional experiences that foster teamwork and collaboration. A certified American Heart Association International Training Center, this state-of-the-art simulation facility not only serves LAU medical schools and LAU Medical Center – Rizk Hospital, but also the health community at large.
Professor Ahmed Rhassane El Adib, president of the Moroccan Society of Anesthesiology and Intensive Care and vice-president of the Moroccan Society of Medical Simulation, looked forward to future collaboration between his Society and the center. "We are impressed by the enthusiasm and professionalism of the LAU-CSC team and their hospitality," remarked Professor Mohammed Mouhaoui, anesthesiologist at SAMU hospital, Casablanca.