Moving fashion forward
Designer and LAU alumna Rayya Morcos is making waves in the world of fashion.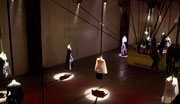 In a city with a narrow range of street style, Morcos takes a major risk by offering unprecedented shapes and styles.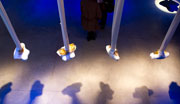 Morcos boasts a very select group of clients.
Click on any photo above for larger version.
Like a graceful twirl lifts a skirt from the ground, a strong breeze pushes a shirt collar against a cheek or cool air fills the back of a cotton blouse, Rayya Morcos freezes moments of clothing in motion in her highly sculpted fashion line Bird on a Wire.
The designer's cerebral leanings are clear—she prefers to read existential literature over fashion magazines in her spare time; in fact, the first line of Bird on a Wire was inspired by French philosopher Michel Foucault's idea of "heterotopia" and Lois Greenfield's photography of ballerinas.
Both of these highlight the idea of an imaginary space, such as the make-believe world of small children or the imagined scenes deftly conveyed through ballet choreography.
To be sure, Morcos designs have a kinship to the architectural sensibility that she developed while a student at LAU. "I construct clothes," she explains.
"I think in 3-D."
Unlike most artists who work in typical two-dimensional sketches in a notebook, Morcos works in 3-D, with Play-Doh and crunched up paper. She sews preliminary versions of her designs in cheap cotton, sending this rough prototype and patterns to a local atelier who turns the designs of her imagination into wearable clothing. "The man at the atelier suffers a lot because of me, I owe him some happy pills," she says, laughing.
For the LAU alumna (B.S.'03), fashion has always been a part of life. Growing up, her mother, a Fine Arts graduate of LAU (then called BUC) infused her life with creativity and inventiveness. "My mother's eccentric style was my early source of inspiration," she says.
Her mother and father also inspired her decision to pursue higher education. "My parents wanted me to have a strong background before going into an 'uncertain' field such as fashion, so I chose to obtain a degree in interior design from LAU," she explains.
She also cites the "dynamic classmates and encouraging professors" she encountered at LAU as important sources of inspiration that motivate her work.
Now an instructor herself at Esmod Beyrouth, she preaches what she practices. In the classroom, Morcos' asks the next generation of Lebanese fashion designers to throw away their magazines and try something completely new, says former student Maryz Abdel Massy.
"She basically taught us to play and experiment ways of coming up with new volumes and prints, like thinking outside the box and forgetting everything we see in magazines and on TV," Abdel Massy continues.
Moving forward, Morcos is going to launch a new line in September and she is also busy perfecting a necklace line built from dozen of copper or wooden pieces that fit together like the bones of a reconstructed dinosaur.
A full version of this article was originally published in The Daily Star on July 18, 2012 (click to view) and is here posted with additional reporting by LAU staff.