Music from the BLOK'
LAU students and instructor launch the Middle East's first ever laptop orchestra.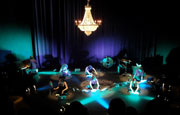 The troop will perform in local and regional festivals.
Click on photo above for larger version.
When seven LAU students and friends partook in an LAU drama workshop focused on the newfangled notion of laptop orchestra and computer music, none of them knew they would crown the course with much more than just a good grade.
The Beirut Laptop Orchestra (BLOK'), started as a mere pilot project for the class, soon became a full-fledged eight-member ensemble; the first of its kind in the Middle East to fall under the "laptop orchestra" bracket.
Computer music is a recent term typically coined to the applications of computing technology in music composition - or, in simpler terms, the use of computers and microcomputers in the production of music.
The people behind BLOK' are eight - students Nayla El-Hares, Nay Tabbara, Firas Bou Zeineddine, Jad Atoui, Joseph Rizakallah, Ali Moghnieh and Nur Fakhoury, joined by the workshop's instructor-cum-musical director of the band, Jawad Chaaban.
But it takes more than a simple click of the button to turn a few computers into an orchestra, especially since BLOK' is mostly grounded in improvisation.
"We improvise and edit our music while playing. We experiment with sounds - we edit them, modify them, record them, add effects to them, and then add them up to create music," says Fakhoury.
Indeed, BLOK' is a fusion of digital and acoustic sounds (including live violin, piano, and drums) that are put together to create "a combination of sounds with a view to beauty of form and the expression of emotion," which the Oxford dictionary defines as music.
"Since our music is always played live, we need to be able to synchronize with the other band members on the spot, and anticipate the effect that each of us produces on the rest of the music," explains Fakhoury.
Bou Zeineddine fully agrees.
"Every single sound played on the laptops should be released at the right time so it can flow naturally with the rest of the piece. Both the performers' and the audience's emotions constitute an invisible network of sound communication that determines what the next move should be," he says.
Due to the naturally experimental aspect of the music, it's almost impossible for the music produced by BLOK' to be the same, or even vaguely similar, twice in a row.
"It all depends on the energy between us and the audience," says Fakhoury.
In spite of the modest number of performances that BLOK' has carried out - once at the Gulbenkian Theatre, and once as part of the LAU 14th International University Theatre Festival - the eight-member laptop orchestra will soon be performing at various festivals, including the MISHKAL Festival, organized by AGONISTIK for Performing Arts (AFPA) at Al-Madina Theatre, and at the first edition of Alexandria's Backstreet Festival, in Egypt, under the motto "Toward art in non-traditional spaces."