Muslim communities in Australia
Egyptian-Australian scholar talks about "Muslims in Australia: History, Successes, Challenges and Opportunities."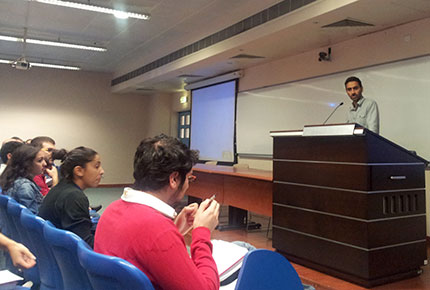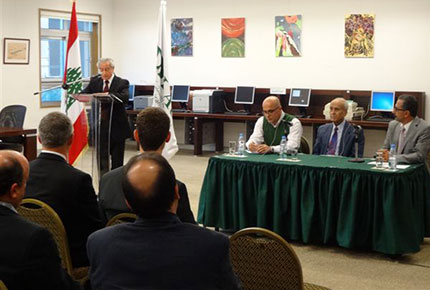 On November 26, LAU's Institute for Migration Studies in partnership with the Australian embassy in Beirut, hosted a lecture by Egyptian-Australian scholar Waleed Aly entitled "Muslims in Australia: History, Successes, Challenges and Opportunities."
According to Dr. Paul Tabar, associate professor and director of LAU's Institute of Migration Studies, Aly is one of the most prominent public figures in Australia. "He is arguably the most well regarded Muslim voice in the country," he said. Indeed, the scholar has been named as one of the 500 most influential Muslims in the world.
Waleed Aly's research has uncovered interesting notions of national identity and its link to migration and globalization. Pointing to Australia's multicultural makeup, Aly said that about 50 percent of Australians have at least one parent who was born overseas. "And Muslims total around 500,000 individuals in Australia making them about 2 percent of the total population," he said.
But while the Muslim community is not particularly sizeable it is indeed growing, both vis-à-vis successive waves of migration as well as through conversions. "Muslims in Australia represent as many as 70 different countries and all these communities have their own particular relationship to Islamic practice," Aly explained.
This diversity has seen the erection of mosques that are built along national lines, reflecting the various state identities. To get an understanding of the phenomenon in Australia, Aly stressed that it was vital to reflect on the meaning of nationalism and the experience of Europe and America, and he went on to discuss the difference between what he referred to as a cultural versus a civic model of citizenship.
"Though it has its own flaws, the American idea of citizenship, which is based on a 'civic' model, allows for greater religious diversity to be confined under one idea of nationality," Aly said. He contrasted this with the European example, which is based on a 'cultural' model, and that tends to be a lot less accommodating to religious minorities.
"It was interesting to reflect on the different ways notions of citizenship are constructed and what is at stake with various modes of meaning," said LAU political science student Hrag Avedanian. "This talk has made me aware of the value of a civic model—you can't ask people to detach from their religion when they immigrate to a new country, nobody should have to make that choice," he continued.
"As Australia's Muslim community increases in size, it is important for policy makers to take into consideration these two different models and reflect on what is at stake when a strategy of exclusion is pursued," Aly concluded.
The lecture coincided with Tabar's "Arab Communities in Australia" book signing ceremony that took place on November 29.