Woman of the year
Haifa Al Kaylani, board member of LAU's Institute for Women's Studies in the Arab World, receives Muslim Woman of the Year award.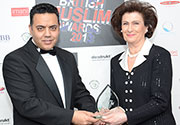 Al Kaylani receiving the award.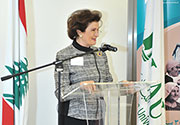 Al Kaylani speaking at an AIWF conference hosted in partnership with IWSAW at LAU.
Click on any photo for larger version.
Haifa Al Kaylani, founding chairperson of the Arab International Women's Forum (AIWF) and board member of LAU's Institute for Women's Studies in the Arab World (lWSAW) was named 'Muslim Woman of the Year' at the British Muslim Awards.
The prestigious ceremony, which took place on January 29th in Manchester, U.K., recognized a wide range of achievements in diverse fields such as business, charity, sport, arts and culture. The British Muslim Awards were established this year to acknowledge exemplary Muslims who have excelled in their respective fields and have significantly enhanced British culture.
"It's very rewarding to have the work be recognized," enthuses Al Kaylani who began her philanthropic pursuits in 1985.
The Muslim Woman of the Year award is recognition of Al Kaylani's volunteer work that has spanned over 28 years. She has been instrumental in encouraging leadership roles for women and creating greater cross-cultural understanding and dialogue in the U.K., the Arab world and internationally.
A lifelong philanthropist, Al Kaylani was born in Palestine and raised in Lebanon. The eldest of five girls, she and her sisters were strongly encouraged by their parents to pursue higher education. She went on to attend AUB and Oxford University and upon graduating made a name for herself as a leading economist, and married a former Jordanian diplomat and businessman.
Al Kaylani has held senior positions in several high-ranking organizations and cultural institutions. Most notably, she is the founder of AIWF, an umbrella organization that brings together and connects over 1,500 institutions based in 45 nations and 6 continents of the world. At the helm of this initiative she has facilitated a space for women of Arab origin to build relationships and promote their respective organizations.
Indeed, Al Kaylani's advocacy work is sharply in line with IWSAW's mission to empower women, so it is unsurprising that she has been a board member for the past three years and is delighted to be part of the organization. "IWSAW does very valuable work and LAU is a great university, especially for women," she says citing the university's deep roots as an early champion for women's education.
Dr. Dima Dabbous, director of IWSAW, is thrilled to have such a high-caliber individual on board. "We are all very proud of Haifa's accomplishments," she says. "She was approached to join IWSAW's board because of her demonstrated track record of helping empower women in the Arab world, so it is only natural that her work is being recognized now," Dabbous adds with palpable pride.
Al Kaylani herself draws inspiration from women she encounters every day. "As an economist who has specialized in development issues, I consider the human capital of the region to be the most valuable resource," she says.
Interestingly enough, her conviction that women need to play a central role in public life stems not simply from feminist leanings but rather from a strong belief that a healthy, sustainable economy is only possible when equality exists for all.
"That is why working to build bridges, regionally as well as locally is such an important investment for the future."
A future that looks quite bright, indeed.