Myrna Doumit awarded fellowship at the American Academy of Nursing
Policy-oriented research and unflagging engagement with the community to improve patient care earn Myrna Doumit prestigious AAN fellowship.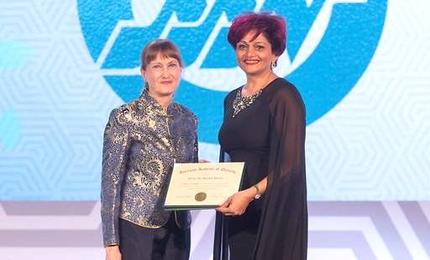 Associate Professor and Assistant Dean of LAU's Alice Ramez Chagoury School of Nursing, Dr. Myrna Doumit was the sole representative of Lebanon among the 173 leaders in the nursing profession awarded a fellowship at the American Academy of Nursing (AAN) recently. The recipients of this prestigious distinction were honored at a ceremony held during the AAN annual policy conference, which this year took place in Washington, D.C., in October.
According to the AAN, "fellow selection criteria include evidence of significant contributions to nursing and healthcare …. Selection is based, in part, on the extent the nominee's nursing career has influenced health policies and the health and wellbeing of all." In Doumit's case, the combination of policy-oriented research with community engagement and impressive work with the government to improve patient care proved decisive in securing the AAN fellowship.
"The alignment of my research trajectory on breast cancer with my community project 'Courage Against Breast Cancer,' in addition to my work with the Ministry of Public Health on breast cancer and palliative care, and my work with refugees" sealed her selection by the jury, Doumit says.
The AAN's stated mission is to "serve the public and the nursing profession by advocating health policy, practice and science through organizational excellence and effective nursing leadership." The receipt of the fellowship is, according to Doumit, "recognition of the scientific merit of the work that I am doing, whether in research, practice, or community work."
But more than just formal recognition of the fellows' already distinguished careers, the position requires honorees to contribute tangibly to the Academy, by engaging with other health leaders to enhance the quality of health and nursing care; promote healthy aging; reduce health disparities and inequalities; shape healthy behaviors and environments; integrate mental and physical health; and strengthen the nursing and health delivery system globally.
"At the professional level, it is the beginning of a new journey of excellence and higher achievements," says Doumit of the award. "The expectations placed on you are higher now, and people judge you more critically because you have reached a highly prestigious level in academia."
The induction ceremony in itself impressed on Doumit "all the honor, prestige and excellence that come with the fellowship," she says. Indeed, "the ceremony is a place where you meet the elite of academia, because very few people are selected. I felt very happy and honored to be part of this group, but at the same time started to think about what the next stage entailed."