Nationwide film festival hits LAU Byblos
The Common Ground Film Festival dedicated to sharing stories of war and reconciliation is touring Lebanon's schools and universities and stopped through LAU last week.

Dr. Irma-Kaarina Ghosn, director of LAU's Institute for Peace and Justice Education, with Dr. Makram Ouaiss, professor of political science and international affairs at LAU Byblos, who helped moderate the discussion.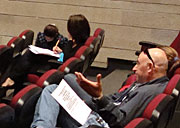 Participants engage in discussion following the screening of In My Country.
The two-month-long Common Ground Film Festival made its way through LAU Byblos on November 18 and 19 on its tour of 12 schools and eight universities throughout Lebanon to share various films intended to get youths to think critically about issues surrounding violence and conflict resolution.
Themed "Truth and Reconciliation," the festival reveals stories of rapprochement between former enemies and warring factions in Lebanon and other parts of the world.
It is organized by Search for Common Ground, an international conflict-prevention and resolution NGO, and the Lebanese Center for Policy Studies, its local partner, and was hosted at LAU's Selina Korban Auditorium by the university's Institute for Peace and Justice Education.
"What we are trying to do is look at different topics around conflict that affect people in the country and start a conversation about them," said Sarah Shouman, SFCG director for Lebanon. "It's about putting a human face to war."
The first film screened in Byblos was In My Country, released in 2004, which follows two journalists as they cover Truth and Reconciliation Commission hearings that took place in South Africa after the abolition of apartheid in 1994.
The next screening was I Met the Walrus, a five-minute animated film that plays in sequence to a 1969 five-minute interview with The Beatles star John Lennon where he talks about efforts by "the establishment" in the United States to smear and silence him for his activism against the Vietnam War.
Two more films were screened the following day: In Spite of War, a 30-minute documentary on the Lebanese Civil War; and For You, Wherever You Are, which contrasts the perception of Lebanon's vibrant nightlife with the feelings of fear evoked during night for many victims of the civil war.
"A lot of people who were scarred by war remember those feelings during night," said Sarah Bou-Ajram, SFCG coordinator. "The film forces people to think about the psychological and social dimensions of war that remain."
The same films are being shown at each university, but because of the explicit nature of some of them, more age-appropriated films were chosen to be screened at schools.
After each film, moderators engage the audiences in discussions about the films and their underlying meanings and messages.
During one discussion in Byblos, audience members and organizers examined the idea of peace, expressing concern that the meaning of the word is lost, misinterpreted or misrepresented.
"We are teaching a new generation to think about values of nationalism, but nationalism is not peace," said Dr. Makram Ouaiss, professor of political science and international affairs at LAU Byblos who helped moderate the discussion. He explained that reconciliation between enemies is not peace if the alliance is formed against other factions or entities.
"What unites us against the outside enemy is not necessarily peace," Ouaiss added. "It's a common fear, a common interest."
The festival started on October 5 and will conclude with an event at the Dowar Al Shams Theater in Shiyah from December 10-12.