New activities enrich LAU's annual summer camp for children
This year's summer camp at LAU has introduced new activities for children to provide a unique experience that blends entertainment with learning.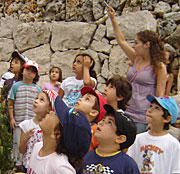 Summer Camp children with group leader at Dino City.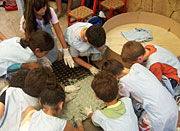 LAU Summer Camp children prepare clay tablets to build a mosaic table.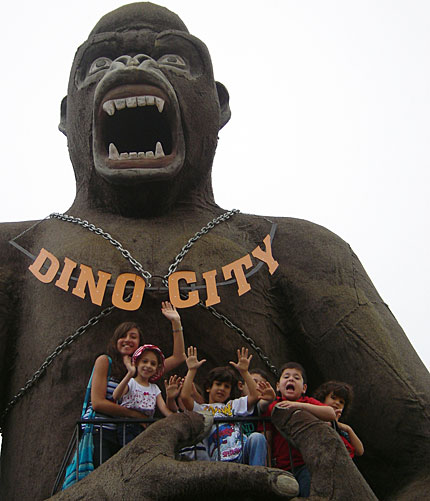 Summer Camp children pose with their group leader at Dino City amusement park.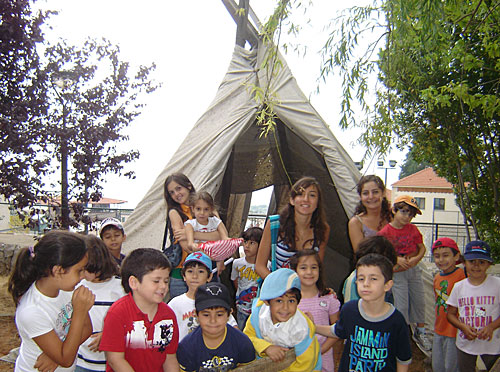 Children with their group leaders in front of a tipi at Dino City.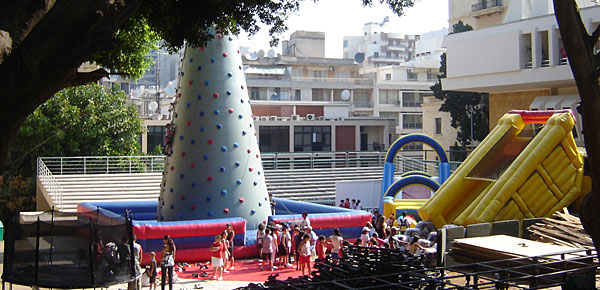 An inflatable play park was erected on LAU's Beirut campus as a special activity for the children on the first Wednesday of the Summer Camp.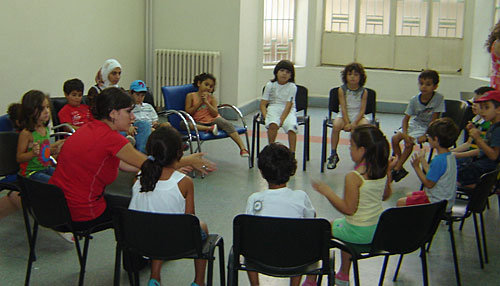 Children during a storytelling session.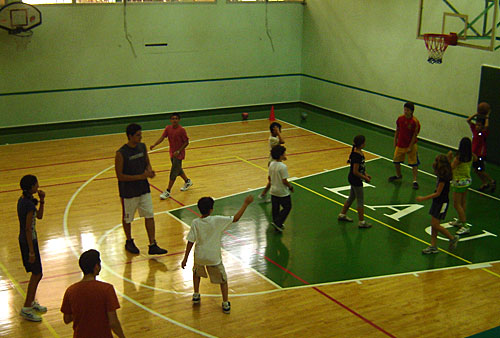 Basketball game at the Gymnasium of LAU's Beirut campus.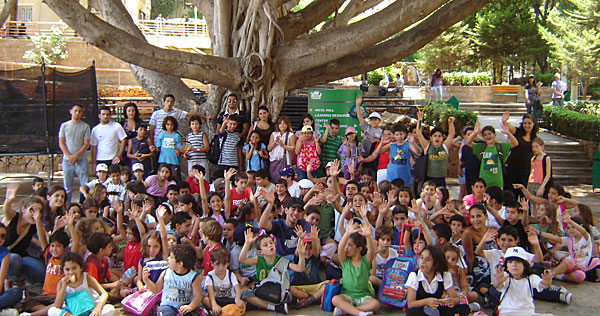 Group photo of Summer Camp participants with their group leaders on LAU's Beirut campus.
Click on any photo above to view all eight images
LAU's annual Summer Camp has been having another successful year with the introduction of new activities to keep children entertained and imaginative.

Among them is a collaborative project to construct a mosaic table that each of the 150 children enrolled in this year's summer camp, from July 6-August 14, can contribute to.

"We wanted from now on to have a souvenir from the summer camp," says Maya El Khoury, this year's camp coordinator. "So we came up with the idea of doing this mosaic table because it's something that will be nice [to place] in the university and because all the kids can work on it."

For the first time, the camp hired a specialist, Faten Daboussi, to teach children some etiquette tips. The course covers everything from body language and table manners to communicating with the handicapped.

"The main point that we concentrate on is respect," says Daboussi.

"I like to work with children because they are the future of Lebanon," she adds. "I think that if we teach them the basics of proper behavior, Lebanon would be a better place."

The Summer Camp, which has been a yearly event at LAU since 1982, is organized and run by the university's Continuing Education Program.

The camp is customized for two different age groups — a regular day camp for 6-8 year olds, and a special program that teaches business and leadership skills to children aged 9-12.

Parents are also given the choice of enrolling their children in a two, four, or six-week program.

Some of the regular activities offered each year include art, basketball, chess, cooking, storytelling, swimming, tennis and wushu (Chinese martial arts) — all of which take place on LAU's Beirut campus Monday through Friday, 8:30 a.m.-1:30 p.m.

On Wednesdays the children are taken on field trips to different locations including the Animal City zoo, the Splash Mountain water park and Dino City amusement park.

"Every now and then we try to find new places for the children to visit and interesting things [for them to do]," says Monya Berjawi from the CEP office who's helping in the camp coordination. The program aims at "entertaining them while at the same time educating them."

When new activities and classes prove to be especially popular and effective, they may be incorporated into the Summer Camp's regular lineup.

Several years ago, for example, the camp's organizers introduced the "Little Business Leaders" program to train children to manage budgets, sell products and make entrepreneurial decisions.

Because of its tremendous success, the program became a permanent fixture of the Summer Camp for the older children.