New dean offers glimpse into upcoming LAU nursing school
Dr. Nancy Hoffart arrived to LAU to begin planning for the launch of LAU's Alice Ramez Chagoury School of Nursing next year.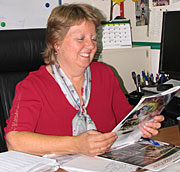 Dr. Nancy Hoffart joined LAU as the founding dean of the upcoming School of Nursing.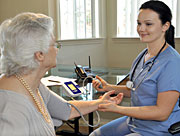 Hoffart hopes LAU nursing students will engage with community organizations on related projects and campaigns, and collaborate with pharmacy and medical students on training programs, simulation exercises, and shared-interest research.
The planning and development of LAU's Alice Ramez Chagoury School of Nursing, scheduled to open its doors in fall 2010, is well under way. A key step forward in the development progress of the new school was the appointment of its founding dean Dr. Nancy Hoffart who joined LAU early this month from Northeastern University in Boston.

Having arrived to LAU to prepare for the school's launch, Hoffart says she will work to ensure that the school offers a well-rounded curriculum, teaching students the importance of communication across health care professions.

The new school will work closely with the students and faculty of LAU's schools of Pharmacy and Medicine, as well as the staff at the University Medical Center - Rizk Hospital, to collaborate on training programs, simulation exercises, and shared-interest research. Hoffart hopes nursing students will also engage with community organizations on related projects and campaigns.

The establishment of the school, which is to be located on the Byblos campus, was approved by LAU's Board of Trustees in September 2006. Hoffart says the school expects to enroll around 15-20 students next year.

Hoffart previously served as a faculty member (2002-last month) and the dean (2002-2008) at Northeastern's School of Nursing.

She shared her views and plans in an recent interview.


What attracted you to LAU?
What attracted me was the opportunity to start a new school of nursing where at the same time a new school of medicine was being developed. I've always been committed to interdisciplinary education. I think patients deserve the best that every health care discipline can offer. They need to have good nurses, pharmacists, physicians, dietitians — the whole array of health care professionals, because patients have many needs. When I learned the university was going to buy the University Medical Center - Rizk Hospital, that was icing on the cake for me, because I've always liked to work with nursing departments in hospitals.

How will LAU nursing students be working with others outside their school?
I would like to work with the nursing staff at the University Medical Center - Rizk Hospital to figure out how we can tap into their expertise and knowledge to develop, educate and guide the next generation of nurses. We will hopefully collaborate with faculty at LAU's School of Pharmacy and School of Medicine on research activities of shared interests. It would also be great to involve nurses from the hospital that are interested in research and have particular clinical challenges, which might spur some research studies that the nursing faculty would help them with. I think that by being at the hospital, we will be able to have simulations with teams comprised of pharmacists, physicians and nurses employed at the hospital, as well as medical, nursing and pharmacy students, who will be able to work on some interesting projects.

What can be done to address the attitude some have that places less value on nursing than other health care professions?
I think we're beginning to make headway on that, and a part of the reason is research. We now have a generation of researchers who are nearing retirement and have conducted research studies that show how nurses do make a difference in patient outcomes. Many more nurse researchers are following in their steps, expanding the knowledge base to continue improving nursing care. We also have a growing body of research that shows that the higher the number of nurses caring for patients in a hospital, the more positive the effects will be on patient outcomes. A high number of professional nurses can decrease the complications patients have after particular types of surgery, and their hospitalization time. The more research we have, the more we can demonstrate the difference we make in people's health, and I think that has helped begin to change the image of nursing.

What are the qualities in nursing you would like to stress through the new curriculum?
Nursing is an intellectual practice. I think that's one thing most people don't think about. Most people think about nurses as people who are compassionate and give personal care, but beyond that, the minute nurses walk into a patient's room, they are thinking. They question the patient about what's going on with his or her health because of what they know about the condition the patient has. As they get the answers from the patient, they are putting those answers back into the framework of thinking about the disease, treatment and related nursing care. All nursing interventions are part of an intellectual process.

What are the nursing-education challenges specific to Lebanon you expect to face?
One of the problems we might face is that data about various incidents is hard to get in this country.  So it might be challenging to find data to use in determining what the most common and critical topics or conditions are that our students need to know about. You want to make sure all of your graduates are prepared for things they are most likely to encounter in practice, and if there aren't the necessary data, it's a little bit harder to educate them.