New Facebook page answers students' enrollment questions
Students get personal answers from LAU staff about admission, financial aid, and registration queries on the new LAU Students Facebook page.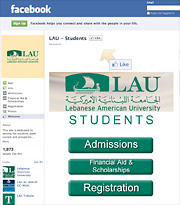 The new LAU Students Facebook page was launched last month by the Enrollment Management Office.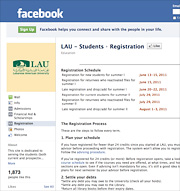 Students get answers from LAU staff about their enrollment, financial aid, and registration questions on the new page.
Students can now get their questions about admission, financial aid and scholarships, and registration answered by LAU staff on the new LAU Students Facebook page.
Students receive responses to their posted questions within 24-48 hours.
"There isn't an official place on campus where students can come physically and ask questions, so we're doing it virtually on Facebook," says Abdo Ghié, LAU assistant vice president for Enrollment Management.
"People aged 15 to 19 are using social media very actively, and we want to be more visible to this population group," he says.
Over 1,850 people have already "liked" the Facebook page, which was launched last month by the Enrollment Management Office, and is logging an estimated 2,596 monthly users.
Students post questions about a wide range of issues, from dropping classes after the deadline to changing campuses, and a team of five administrators personally responds to the queries.
"It's a virtual one-stop shop," says Ghié, adding that the page is already expanding beyond enrollment management by posting awards announcements, and event coverage, such as a live stream of the graduation ceremonies.
Meghry Khoshian, executive assistant at LAU's Enrollment Management Office who is one of the site administrators, stresses that the answers are never generic or vague. "We always send people direct links or extensions in response to their questions," she says. "We want to keep our reputation as the best student service-oriented university in Lebanon," she adds.
The new page, which is separate from the LAU Facebook page, falls in line with LAU's mission to develop students through the offering of student-centered services, program development and co-curricular activities.
The page plans to eventually expand to include housing and athletic announcements, as well as information on civic engagement events and LAU-sponsored fairs.
"It can help professors make announcements to students outside of their classes," says Ghié.
So far, the page has attracted attention mostly from LAU students as well as applicants who are living abroad. Using the Facebook page allows the latter to bypass the hassles of international phone calls, or different time zones.
"For them, it really is a faster way to communicate," says Khoshian, adding that a few of the administrators are based in LAU's New York Office, and can address questions with less lag time than those based in Beirut.
But Ghié expects more Lebanon-based students to use the page in fall, as incoming students become aware of the service and begin to rely on it for information.
"A whole new batch of students will be joining us in fall, and they will be curious, they'll want to know everything about the university. We plan to promote the page as a way to get that information," he says.