New partnership celebrates collaboration between academia and industry
LAU signs agreement with the pharmaceutical manufacturer Algorithm.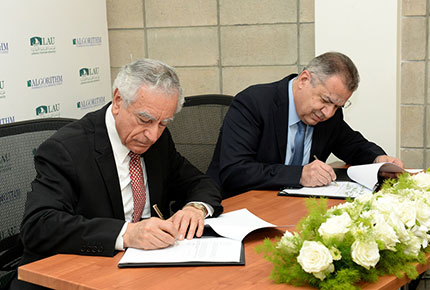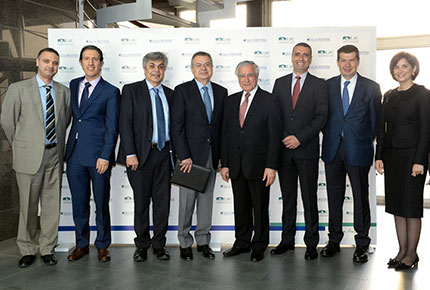 On April 2, 2015, LAU's School of Pharmacy (SOP) entered into an agreement regarding academic collaboration and partnership with the pharmaceutical manufacturer Algorithm. The newly-established relationship will allow Pharm.D. students to complete their experiential education and training at Algorithm's facilities using their laboratories, equipment, services and personnel.
"This marks in an indelible way the coming together of two institutions that share the same set of values in terms of impeccable ethical behavior and commitment to serve the wellbeing of society," declared LAU President Joseph G. Jabbra at the signing ceremony. "This partnership doesn't only provide young people with the opportunity to succeed, but also to serve society and build our country," he added.
For his part, Algorithm's CEO Selim Ghorayeb thanked LAU for allowing his company to contribute to the university's mission to further spread knowledge among youth and the community as a whole.
The new partnership has elicited an enthusiastic response from LAU pharmacy faculty and students. Lamis Karaoui, clinical assistant professor and director of experiential education at the SOP, underscores the importance of experiential education: "It gives students the opportunity to step out of the didactic classroom and laboratory teaching, into a wide array of real-world practice settings putting the knowledge they have gained to use in hands-on pharmacy experiences."
The partnership between LAU and Algorithm will expose students to the technical/industrial as well as the commercial aspect of pharmacy. "This is a great opportunity to learn more about the profession, to learn things we can't be taught in class," enthuses LAU Pharm.D. student Joelle Khraish. "Through my training at Algorithm, I am going to discover a new side of pharmacy that has to do with production and marketing and which I know very little about," she declares.
For Dean of the SOP Imad Btaiche, bringing academia and the industry together is today crucial. "It is a win-win situation," he says. "Our students will come and learn new skills and our faculty will work on joint research projects." Noting that the past years have seen pharmacy curricula worldwide geared increasingly toward the clinical aspect, Btaiche highlights the importance of going back to the roots of what pharmacy is about. "Programs have kind of forgotten about the making of the drug, from its inception to its delivery. It is high time we go back to the roots and create more balanced curricula," he says adding that, LAU has started working on a new graduate program focused on the pharmaceutical industry.
The school has recently seen its Accreditation Council for Pharmacy Education's (ACPE) accreditation extended for eight years and is the only ACPE-accredited institution outside the U.S.