New research fund asserts LAU's commitment to knowledge generation
Signed agreement between LAU and the National Council for Scientific Research promises to boost the research culture at the university.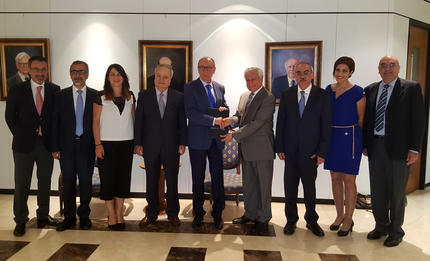 LAU has signed an agreement with the National Council for Scientific Research (CNRS) that will see researchers benefit from access to larger grants than previously available at the national level.
"The establishment of this fund underscores LAU's commitment to research as a core activity, alongside teaching and service," says LAU Provost George K. Najjar. "It will enable us to broaden and deepen our research culture at the university."
CNRS, the body established in 1962 to coordinate all state funds available for research has for many years supported groundbreaking studies at LAU. Ongoing research into traffic mitigation in Lebanon, for example, has benefitted from tens of thousands of dollars in CNRS funding.
Financial support for any single research project has, however, rarely exceeded $7,000 per year and, as such, has been seen as an important source of seed funding for fledgling research projects. "This new pot which will be equally funded by LAU and CNRS will enable our researchers to benefit from significantly larger funds over longer periods of time," explains the provost.
LAU professors have for many years also enjoyed access to seed funding and research grants through the university's office of Graduate Studies and Research (GSR), headed by Pierre Zalloua. "This partnership with CNRS means that LAU is now more actively part of the funding process," explains Zalloua. "This will enable us to help strengthen the quality of projects and proposals and ensure our best projects are funded."
Both institutions have committed to contributing no less than $200,000 each to the first round of funding, (a total of $400,000) for which LAU faculty have until September 29 to apply. "We requested that the deadline be pushed back from mid to late September," says Najjar. "This ensures our incoming faculty also have the opportunity and time to apply."
Researchers from across all disciplines at the university can apply under this scheme as individuals or as a research consortium for funds covering up to $40,000 of costs for projects that last up to two years.
"We will continue to launch postgraduate programs and support research, such is the depth of our commitment to knowledge generation," says the provost.