New styles and guests at LAU's sixth dance festival
Scores of participants spoilt for choice with 80 different workshops on offer, including African dance and Dabke.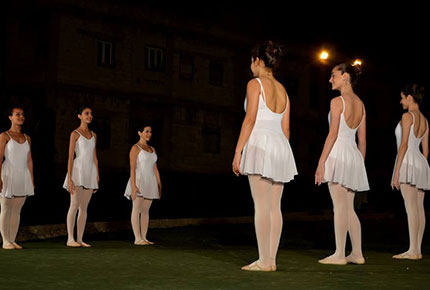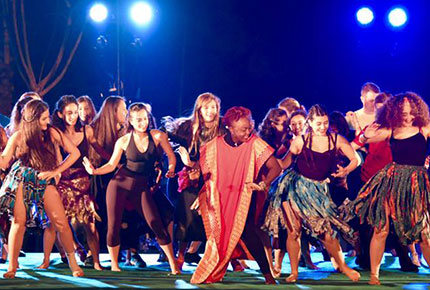 LAU's Byblos campus was the stage to hundreds of dancing feet last week during the International Dance Day Festival in Lebanon, hosted by the university every year since 2011. Four international guests joined local dance instructors to conduct 80 workshops in a multitude of dance styles over six days.
"There's a completely different vibe this year," said festival founder and organizer Assistant Professor of Dance Nadra Assaf. "We have African Dance and Dabke workshops in the schedule, whereas previously we'd focused more on ballet, modern and contemporary."
Street dancer and 12th grader Melanie Antoun was thrilled with the variety. "This festival is very enriching, giving me the opportunity to try out various forms of dance. It's also wonderful to work with international trainers who focus on technique and not just choreography."
Antoun was among a number of young women who performed an African routine choreographed by guest instructor Jennifer Ohia at the closing gala on Friday. "It's been a wonderful week," said the Nigerian instructor. "People with different abilities and of all ages have been coming to the workshops, regardless of the level advertised. It shows that they're enjoying it and love it enough to break the rules. It's a dream come true."
Her husband and fellow dancer Ikem Ohia was also in Byblos, conducting jazz workshops. He heads the Society for the Performing Arts in Nigeria (SPAN). "We are working toward SPAN becoming a fully comprehensive school but as we do not yet have the educational system in place, we are happy to send our students to continue their education at LAU," explained Ohia, who has in the past benefited from a 'training of trainers' workshop led by Assaf.
Expanding LAU's relationship with dance schools and potential students was among the founding goals of the dance festival, explained Assaf who is also the associate chair of LAU's communication arts department and who boasts a Ph.D. in education, a master's in dance and a dance school with three branches in Lebanon.
Along with guest instructor Matt Henley, Assaf ran workshops in modern dance at the Byblos campus throughout the week. "I'm very impressed. The classes have attracted a wide range of dancers – some trying things out for the first time, and others who are quite experienced. It makes it fun for me as a teacher because I can see that everyone is learning something," said Henley.
Twelve-year-old Tala was one of the novices won over by the experience. "I've been taking gymnastics classes for a few years and now want to get into dance. This festival gave me the opportunity to try different styles and get to know the different schools in Lebanon."