New York exhibit presents differing depictions of veiled women
Veil(s): A Photographic Overview is an exhibition conceived by LAU's Institute for Women's Studies in the Arab World.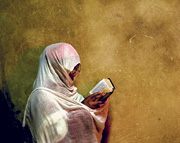 An Ethiopian woman reads from the Bible at the Holy Sepulcher Church in the Old City of Jerusalem. Photographer: Jerry Lampen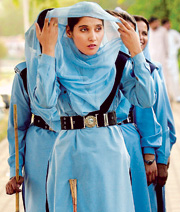 A policewoman, armed with a stick, fixes her veil while monitoring a rally in Islamabad, Pakistan. Photographer: Romeo Gacad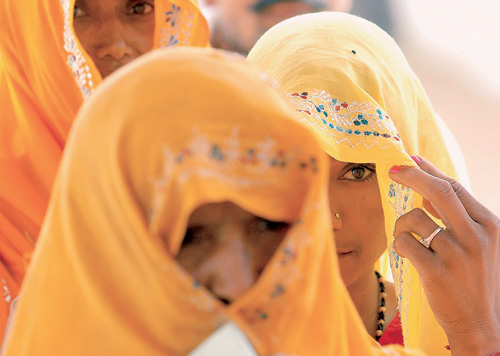 A Rajasthani woman peers out from under her veil as she waits in a line to cast her vote in Dand, on the outskirts of the capital of the Indian state of Rajasthan. Photographer: Prakash Singh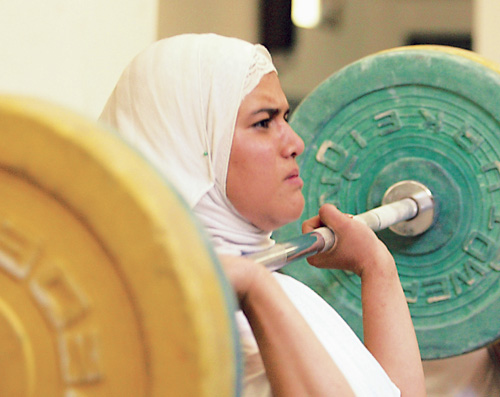 Jordanian orphan Asma Hilal, 15, concentrates during a weightlifting training session in Amman, Jordan. Photographer: Ali Jarekji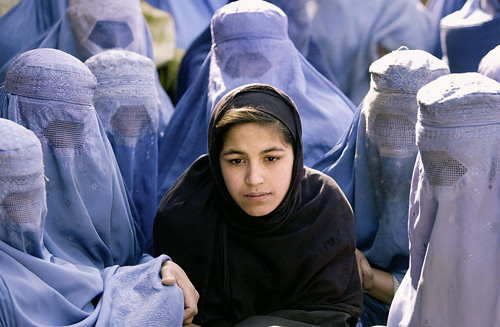 An "unveiled" young Afghan woman waits for her turn to receive food aid among her fully veiled compatriots. Photographer: Emmanuel Dunand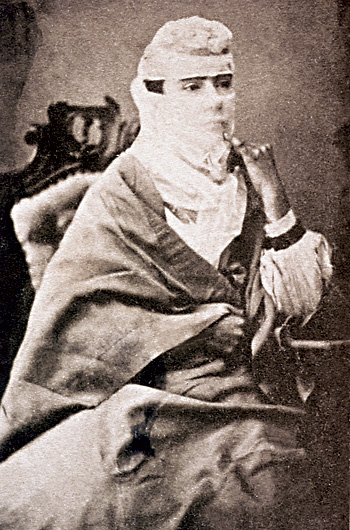 A Lebanese woman in traditional clothing. Photographer: Felix Bonfils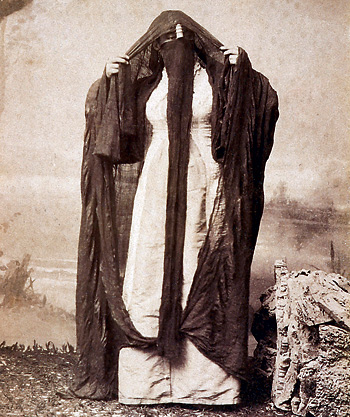 An Arab woman in Egypt in 1880. Photographer: Luigi Fiorillo
Click on any photo above to view all seven images.
A mixture of historical and modern images of veiled women from across the globe is currently being displayed in the Fifth Avenue Presbyterian Church in the heart of midtown Manhattan, New York City.
Launched on January 23, Veil(s): A Photographic Overview features about 30 striking photographs highlighting differing depictions (and perceptions) of veiled women from the 19th century to the present.
The photo exhibit was conceived by LAU's Institute for Women's Studies in the Arab World and first assembled in May 2005 under the direction of IWSAW's former Director Mona Chemali Khalaf.
"There is no singular definition of the veil," explains Chemali Khalaf. "Veiling was, in fact, practiced widely in ancient Mesopotamia, Greco-Roman, Assyrian and Byzantine empires, where it was considered a mark of prestige and a symbol of status."
The women depicted in Veil(s) are Christian, Jewish and Muslim, challenging the notion that only Muslim women wear the veil. The women come from all walks of life; some are veiled for religious reasons, while others consider their veils part of a fashionable identity. Veils are not limited to one economic class; the wealthy, middle class and poor are all shown wearing some form of covering, just as they did in antiquity.
Veil(s) is part of a series of events at the prominent church intended to promote interfaith dialogue and understanding, according to Rev. Dr. Scott Black Johnston, senior pastor of the church. "Interfaith conversations and experiences lay the foundation for respect and trust," he says.
The exhibit also examines the reasons women use the veil. Some say they feel liberated or closer to their beliefs for donning their veils. Others criticize what they say is excessive exposure of women in the West.
"I am the only woman in my family who is veiled," says K.B., a young businesswoman in Beirut and one of the women whose testimonies are included in the companion guide to the exhibit. "I feel completely transformed. I am in a way liberated, protected, more mature; and definitely, more serene."
"Young Muslim women are reclaiming the hijab, reinterpreting it in light of its original purpose — to give back to women ultimate control of their own bodies," says N.M., a Canadian-born Muslim woman quoted in the guide.
This positive view of veiling is also challenged in Veil(s), however; many women recount the experiences of their mothers and grandmothers, whose lives were heavily restricted by their veils. Cultural tradition demanded these women to be almost completely covered.
LAU and Fifth Avenue Presbyterian Church have had a long relationship before this collaboration on the Veil(s) exhibit. The church has provided benevolence grants to IWSAW as part of its efforts to improve the lives and prospects of women in Lebanese prisons.
Ron Cruikshank, a former trustee and elder at the church, as well as a former trustee at LAU and a current member of the IWSAW advisory board, played an integral role in putting together the exhibit.
"What I love about both Fifth Avenue Presbyterian Church and LAU is how both institutions embrace the notion of inclusiveness, promote diversity and encourage dialogue." Cruikshank says. "These are extremely important attributes in this day and age, and I'm proud to be associated with both of these great organizations and proud of the work that they do."
The exhibit will be on display at the New York City church through March 13.