NGO fair emphasizes unity through diversity
Stakeholders and decision-makers gather for LAU's third annual NGO fair.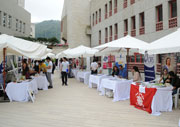 Around 80 NGOs from various sectors set up informational booths to inform students of their objectives.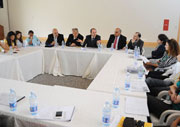 The issue of community service was tackled in the citizenship education roundtable.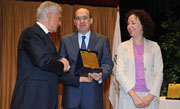 LAU President Dr. Joseph G. Jabbra and Dr. Elise Salem, vice president for student development and enrollment management, present Minister of Environment Nazem el-Khoury with a Special Recognition Award. They also distributed recognition awards to other participating ministries for their contribution along with participation certificates for NGOs.
Click on any photo above to view all three images.
Under the theme "Unity is Strength," LAU held its third annual NGO fair on the Byblos campus, introducing students to the importance of community service and volunteerism.
Organized on May 23 by LAU's Outreach and Civic Engagement (OCE) unit, the fair gathered around 80 NGOs, from various sectors, that set up informational booths to inform students of their objectives and invite them to participate in their activities.
"We hope this fair will bring NGOs and students into close contact, allowing them to harness their creative talents, education and energy for the improvement of society," said LAU President Dr. Joseph G. Jabbra at the event's opening ceremony attended by Minister of Environment Nazem el-Khoury.
In his speech el-Khoury stressed the role of NGOs as pillars of sustainability and continuity in society. "This wouldn't be the case if the Lebanese youth wasn't so hardworking and dedicated to improving this country," he said.
Executive Director of OCE Elie Samia also expressed his respect for the NGOs' work and constant efforts to make the Lebanese society more humane and more creative.
"We, at LAU, consider civic engagement to be an integral part of our mission statement, and we believe that encouraging our students to volunteer and join NGOs of their choice, will not only sharpen their leadership skills, but will also prepare them to become fully committed citizens," he said.
Indeed, the annual fair seeks to form a bridge between student life and civil society by highlighting not only the specific work of various NGOs but also the general importance of cooperation between the government, civil society, and academia in improving the social, educational and environmental conditions of areas in need.
To that end, and in addition to hosting NGOs, the fair featured — for the first time — roundtable discussions tackling four main issues: health, citizenship education, social work, and the environment.
The sessions brought together stakeholders, decision-makers, representatives of various ministries and students in a single venue, and provided them with a platform to brainstorm, exchange ideas and develop solutions to community problems and challenges.
While the environment roundtable addressed issues such as biodiversity, ecotourism, natural resources management, and waste management, the health roundtable focused on the importance of partnership between the Ministry of Health and NGOs. Participants also discussed the role of the Lebanese Doctors Syndicate in raising awareness among doctors and encouraging them to provide assistance and guidance for NGOs.
The citizenship education roundtable, on the other hand, tackled an issue of great — but often overlooked or trivialized — significance: community service.
Director General of the Ministry of Education and Higher Education Fady Yarak described a current proposal that requires school students to complete 40 hours of community service in the course of their school years, which would eventually become a prerequisite for university admission.
"If this proposal comes through, it will really push school students to engage in community service," said Yarak. "We need youth to be more proactive in our community. Volunteering doesn't have to be restricted to a particular activity — even scouting counts."
The citizenship education roundtable featured Antoine Zakhia, representing the Ministry of Social Affairs, who spoke about the importance of establishing a tripartite union between the government, the civil society and the private sector in order to produce a full cycle of civic engagement that benefits communities.
Zakhia also emphasized the role of NGOs in empowering disadvantaged individuals, especially the disabled.
"Ten years ago, a physical disability would simply elicit sympathy — today, we've turned it into potential," said Zakhia. "These people's energy used to be wasted, like a light you forgot to switch off. But everyone has something to give, and our job is to see how we can maximize their contributions," he added.
Vanessa Issa, a student at the Champville school, agrees.
"It's up to our generation to make the big changes now. We should be engaged in social work so we can learn how to be responsible vis-à-vis society — and empower those in need," she says.
Indeed, academic institutions — both secondary schools and universities — are not outlying, independent entities, emphasizes Sarah Bou Ajram, coordinator of leadership and civic engagement at OCE. They constitute only one piece of the puzzle.
"Universities exist within a larger societal unit," adds Bou Ajram. "This is why it's important to help students engage in civil society."
Train/Train, an NGO that aims to raise awareness about the importance of railways and preserve Lebanon's railway heritage, held a booth at the fair.
"One hand can't clap, and it's very important to spread the word and target the youth in these kinds of projects," says Elias Maalouf, founder of Train/Train.
"Railways stopped operating in Lebanon around 40 years ago — but decent public transportation can help the government become more sustainable, which is our ultimate goal," he explains.