No talk, all action
LAU students' automated Arabic diacritization app takes home first place at Startup Weekend Beirut.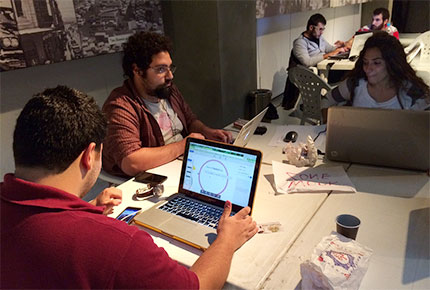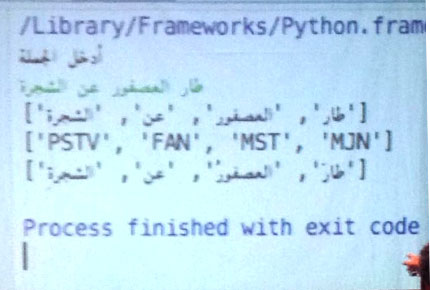 The Beirut Souks was buzzing with creative energy on November 22-24, as seventeen teams of aspiring entrepreneurs gathered to pitch their startup ideas. LAU computer science students, Amer El Homaissi and Mowafak Al Laham's capstone project "Shakkel" was ranked first at the event, which was dubbed "No talk, all action." Recent LAU business graduate Selim Mougharbel served as the group's business manager.
Startup Weekends are 54-hour events where developers, designers, marketers, product managers and startup enthusiasts come together to share ideas, form teams, build projects and launch startups.
According to the students, "Shakkel" is essentially a software system that categorizes Arabic words to figure out the function of each word in a sentence in order to diacritize it correctly. In other words, "Shakkel" understands the function of each word in a sentence and adds the correct vowel (haraka) to it.
The project is intended to help language schools, students and people, in general, to better learn the Arabic language using computers. It also targets news agencies to make their news more readable, especially for beginners of the Arabic language. From a grammatical perspective to accelerate the release of books, writers and publishing houses can benefit from this system as well.
"Our professors' feedback was very valuable and helped us overcome very fierce competition," says El Homaissi, explaining the process that included business model creating, coding, designing and market validation.
"Personally the challenge that I overcame at the competition was my initial lack of self-confidence. I completely regained the confidence in my abilities as a programmer and inventor," he says. "The competition was intense as there were several good ideas that were not only attractive, but also well executed."
Al Laham attributes the team's success to their academic experience. "LAU teaches you, at least in our field, how to become a life long learner. This is what a scientist should be. The computer science program curriculum allows students to experience different areas in the field and present their work to their classmates and professors."
LAU alumnus Mougharbel echoed this sentiment: "Thanks to LAU, I was fully prepared to face any challenge I could encounter during this competition."
The weekend culminated with presentations in front a judging panel made up of local entrepreneurs. The prize of USD 4000 in cash also included free office space, for the next three months at startup incubator Berytech, to get the winning project off the ground.
"As the first university in Lebanon to offer a degree in computer science, LAU is a pioneer in the field," says Dr. Ramzi Haraty, associate professor of computer science, who supervised the students' project. LAU was the first university in Lebanon to offer the degrees of Bachelor of Science in 1976 and Master of Science in 1992 in Computer Science.
Startup Weekend is powered by Google and is a global grassroots movement of empowered entrepreneurs who are learning the basics of founding startups and launching successful ventures. It is the largest community of passionate entrepreneurs with over 400 past events in 100 countries around the world.