An eye on Syrian refugees in Lebanon
Carol Mansour's new documentary, "Not Who We Are" highlights the plight of Syrian women refugees in Lebanon.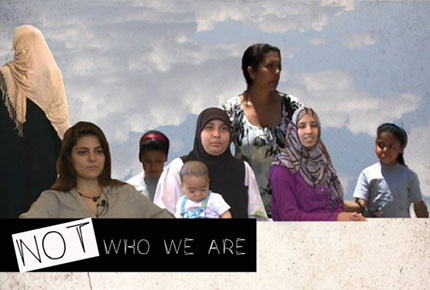 After a full house screening at Beirut's art-house cinema, Metropolis Empire Sofil, Carol Mansour's new feature documentary "Not Who We Are," also pulled in the crowds at its LAU showing on Monday 18th November. Shown by the LAU Alumni Association and the Institute for Women's Studies in the Arab World, the film follows five female Syrian refugees in Lebanon, exposing the faces and stories behind the headlines of the current refugee crisis and shedding light on the hardships they face in the country.
"We found this documentary film fascinating and intriguing. So, we decided that it's our duty to bring our students and alumni this eye opener to the realities around us," said Ghada Majed, associate director at the Alumni Relations office.
The five women in the film, who come from varying backgrounds, show the Syrian refugee experience in all its diversity. Siham, a Palestinian Syrian social worker faces a lack of acceptance even within the Lebanese Palestinian refugee camps. Umm Omr and Umm Raed, two young mothers, who were homeless when they first arrived to Lebanon, now live an isolated life in tents with their families in the Bekaa. While middle class, Afra'a, who works within the arts in Lebanon, only hangs around with other Syrian refugees, because of a lack of acceptance from locals. These women are all admirable in their strength, only Samar, a young woman who had to marry off her two young girls, 14 and 16, is portrayed as a victim.
"It's a huge issue that might take decades to resolve, but concern is the first step," director Mansour says. "My main goal in making the film is to show the reality of Syrian women forced to leave everything behind in a place that is supposed to be better. No one chooses to be a refugee." This feeling of displacement is prevalent throughout the film, with all the women, faced with a new environment where most have viewed them with hostility and stigmatization, are united in their desire to return home.
With the Syrian refugee crisis in Lebanon reaching boiling point, estimation numbers foresee a million by the end of 2013, international aid organizations and the Lebanese government are pushed to their limits and struggling to cope. And while the resulting social and economic plights impact both communities, it's the female Syrian refugees who are perhaps the most vulnerable.
"One of the main problems for female Syrian refugees is legal status and their status in society," says Dr. Jennifer Skulte-Ouaiss, assistant professor of political science and international affairs at LAU. "There are longstanding provisions for male Syrians in Lebanon who come to work as Syrian construction workers, but for all these women I would assume there is a bias of what jobs are there for them. There are perceptions that they can't work or that they shouldn't be working here."
With "Not Who We Are," attracting such a large audience at its LAU screening, it seems there are many willing to start a dialogue on the Syrian refugee situation. By humanizing those who are suffering, cinema can help to break down the existing stigmas and create more of an atmosphere of concern rather than indifference.
"I think the Lebanese are pretty close to the end of their empathy," Skulte-Ouaiss says, "but the director did a great job in making these women seem like people we know. We could be them. It tells to us 'have a heart', but in a very subtle way."