Not your average genes
The President's Circle holds a symposium on the ethicality of genetic testing.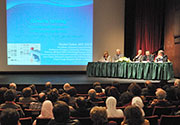 The presentations were followed by a Q&A session.
The President's Circle held a symposium entitled "The Ethical Implications of Genetic Testing" on the Beirut campus on January 25, 2013. The encyclopedic seminar tackled focal questions and considerations in the realm of genetics, including the Lebanese law's take on — and the techniques of — genetic testing.
"In this day and age, scientific research and findings are shaping our view of the world, and unearthing new realms and truths," said Nemat Kenaan, vice president of the President's Circle Executive Committee and moderator of the symposium. "We should always be at the forefront of these developments and expansions."
The 1960s marked the beginnings of genetic testing after geneticists and obstetricians established a correlation between a woman's age during pregnancy and the likelihood of her birthing an infant who has Down syndrome, also known as trisomy 21.
By performing amniocentesis, a medical procedure in which a small amount of amniotic fluid containing fetal tissues is examined for genetic abnormalities, physicians can determine whether the fetus has any chromosomal abnormalities, including trisomy 21. "But the real question is, 'What should we do with this newfound knowledge?'" said Dr. Adnan Mroueh, president of the Lebanese National Consultative Committee for Ethics for Health and Life Science (LNCCE) that co-organized the event. "If a fetus indeed has trisomy 21, should the pregnancy be terminated? And if the parents wish to do so, is that allowed in Lebanon?" Mroueh asked.
According to the Lebanese law, an abortion can only be performed legally if the pregnancy poses a danger on the expecting mother's health. Be that as it may, Mroueh stated that laymen and practitioners alike have found ways to bypass this law by performing medical, nonsurgical abortions.
Today, genetic testing can allow expecting parents to diagnose a wide array of hereditary diseases, including thalassemia, sickle cell anemia, and phenylketonuria, among others. In cancer patients, it can even determine the genetic defect that may have caused the proliferation of tumorous cells, thus helping to orchestrate a suitable treatment.
But genetic testing can be used beyond sheer diagnostics — it can help to compute the risk of developing certain diseases on the long run, in which case, it is called "predictive testing."
"Predictive testing can allow us to determine where the chromosomal abnormality lies," said Dr. Pierre Zalloua, renowned genecist and dean of the LAU School of Pharmacy. "But we cannot always know what this chromosomal abnormality actually implies — whether or not it will lead to disease, whether or not this disease can be prevented, and how it can be treated. In the end, our genes do not determine who we are. Environmental factors play a huge role, as well."
In some cases, neurodegenerative diseases that cause cognitive decline like Huntington's disease can also be diagnosed. "Again, the issue in question is 'How useful is this knowledge?'" said Professor of Pathology Dr. George Aftimos. "If a patient knows he or she will have Huntington's disease in old age, is that a good thing? Will this help them to plan their lives better, or will it just cause them to be melancholy and anxious?"
LNCCE's Vice President and President of the Lebanese Cancer Society Dr. Michel Daher discussed the use of genetic testing in both paternity tests and forensics, the latter of which can be of great significance in criminal investigations.
Doubtless, the symposium raised many questions that cannot always be answered straightforwardly for their answers remain a largely personal — and often legal — choice.
Delighted to have attended the event, Mounir Jabbour said, "I've never learned so much in so little time. It was an inspiring seminar. When you're a 72-year-old-man like me, you want to stay up-to-date."