Nursing students enter the profession with passion
Class 2016 vows to serve others at the Nursing Recognition Ceremony.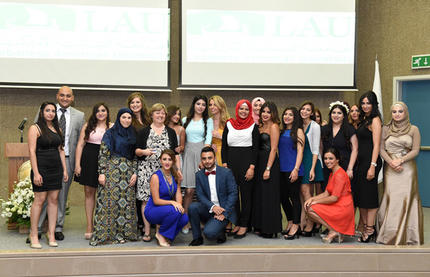 In the presence of their families, friends and professors, the class 2016 of the Alice Ramez Chagoury School of Nursing vowed to honor their profession by reciting the Nightingale Pledge on May 31. This year's Nursing Recognition Ceremony saw 21 young and passionate graduates commit to a life at the service of others.
"The key to success is to build a love affair with your job," said Rana Abdel Malak, director of nursing at Bellevue Medical Center. A clinical instructor with over 20 years' experience in the field, the guest speaker added: "Most importantly, you will have to learn from your failures, because without failures there is no success."
Students proudly marched on stage one by one to collect their pins, a symbolic welcome to the profession. A heartfelt speech followed suit, delivered by graduating student Mohammad Ali Bdeir. "You have shown us that nursing goes beyond grades," said Bdeir, addressing his professors. "It is about being able to love people in their weakest moments."
Bdeir also thanked family members for their support despite the preconceptions that often surround the nursing profession. "Now you saw what we saw, you have felt the passion we have for this profession," he said.
The dedication of a number of students was recognized with an academic excellence award. This year, the Badre Shahin Award for a nursing student was instituted by Wassim Shahin, adding to the four awards previously granted at LAU.
Shahin, professor of economics at LAU's Adnan Kassar School of Business, established the award in loving memory of his aunt Badre Shahin, who dedicated her life to nursing and the service of others.
Its recipient, Ola El Danaf, is a talented student who, as well as exhibiting nursing professionalism and advocacy, scored the highest average in the school of nursing by graduating with a GPA of 3.8.
Danaf first enrolled in engineering, but the passing away of close relatives and the example set by her twin sister―herself a nurse―led her to change career path. "The feeling of helping others and the reward that comes from it is something that only a nurse can understand," said Danaf, who hopes to continue her education in the U.S.
This year's ceremony was a particularly heartfelt one for Nancy Hoffart, founding dean of the school, who will soon be leaving LAU to return to the U.S.
Addressing the students, Hoffart invited them to be faithful to their chosen profession through bright and dark times. "When frustration prevails, don't walk away from nursing," she said, "because every frustration is balanced by one or more rewards."
Hoffart also reminded students of the many shapes of nursing and encouraged them to explore various possibilities and shape their own profession. As a final salute, she impressed on the graduating class the great privilege and responsibility that have been bestowed upon them.
"During your career you will change lives through simple things, you will comfort your patients and maybe shed a tear with them," she said. "May what you have learned at LAU be the wind beneath your wings."