Nutrition students take the profession by storm
LAU provides students from the Nutrition program with unique internship and research opportunities.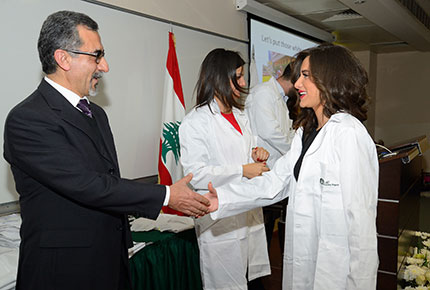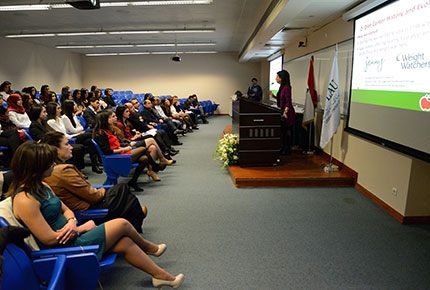 This spring, 15 students from LAU's Nutrition program were selected to accompany food inspectors from the Lebanese Ministry of Economy during their inspection tours, as part of the ongoing countrywide food safety campaign. "Our students will get the chance to assess the inspectors and, at the same time, learn more about the importance of the job the ministry does," explains Hussein F. Hassan, assistant professor of Food Science and Technology.
In Lebanon, statistics show that for every 25,000 people, there is one only food inspector making the rounds, compared to one in 7,000 in Canada. "We need to bring the number of food inspectors up, and LAU students have the opportunity to participate in this exceptional opportunity," says Hassan.
In addition to a B.S. in Nutrition, the School of Arts and Sciences has recently launched a 4-year B.S. in Nutrition and Dietetics Coordinated Program. This track combines the three years of theoretical learning of the Nutrition program with an additional year of supervised practice. Indeed, in addition to their courses at LAU, nutrition graduates must go through a dietetic internship before they become licensed dietitians. Students are then required to complete rotations in three different areas: clinical nutrition, food service management and community nutrition. This stage in their careers is marked with a poignant ceremony recently introduced in Lebanon by LAU.
"In the U.S., students are welcomed into the clinical world, usually before they start their hospital internships, with a white coat ceremony," explains Dr. Nadine Zeeni, assistant professor of Nutrition and coordinator of the Nutrition program. "We have now brought this tradition to the country."
Lebanon's first white coat ceremony for Nutrition students took place on February 11 at LAU Beirut. During the proceedings, renowned dietitian Dr. Sawsan Wazzan, founder of Diet Center Middle East, had some advice for the new graduates: "Continue to be innovative and creative, work ethically and honestly, and let passion be your sole motivator. Most importantly, never be scared to take risks."
Familiar with the university's excellence in education Wazzan, on behalf of the Diet Center Middle East, has recently signed a research agreement with the Natural Sciences department. Within the framework of this agreement, Nutrition students will focus their research on a nutritionally complete modified detox diet created by the diet center. Faculty and students will evaluate the diet and assess its effects on appetite and other variables, measuring them against other traditional detox diets.
"Very few studies worldwide have focused on detox diets. We are planning on publishing the results if our hypothesis proves correct," says Maya Bassil, assistant professor of Human Nutrition and co-investigator in the research partnership. "Through our collaboration, we aim to expose our students to the industry and the challenges it presents."