OCE takes its mission to New York
LAU's Outreach and Civic Engagement unit (OCE) hosts the Global Outreach and Leadership Development (GOLD) conference at LAU's Headquarters and Academic Center in New York.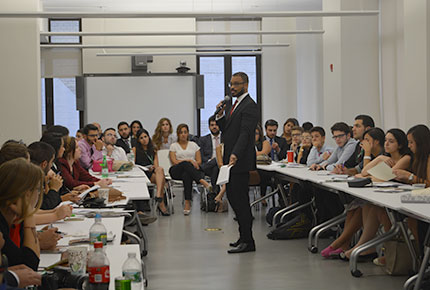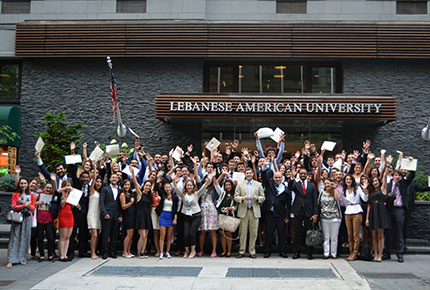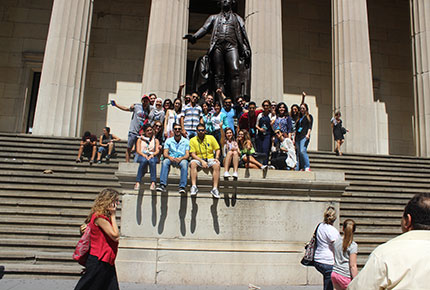 Early August, LAU's Outreach and Civic Engagement unit (OCE) organized a five-day conference dubbed the Global Outreach and Leadership Development (GOLD), which was held at LAU's Headquarters and Academic Center in New York.
More than 70 participants including LAU students – whose trip was sponsored by 50 percent by the university –, high school students and school advisors from across Lebanon, flew to the Big Apple to attend the event.
The aim of the conference was to expose participants to the real work of the UN, to the world of advocacy, empowerment and leadership, and to introduce them to the latest training methodologies and materials in the field of diplomatic representation and international negotiations, among others.
"GOLD was instrumental in consolidating the OCE's relationship with LAU's international partners such as the Office of the Secretary General's Youth Envoy, UNICEF, UNA-USA, World Youth Alliance, the UN office of Management and the Preparing Global Leaders Foundation, as behind every workshop stands a project that can open new horizons for professional development," says Elie Samia, OCE's executive director.
Samia's palpable passion for the conference's end goal was contagious. "See it, own it, solve it and do it. That is what GOLD is all about," enthuses LAU student Nader Ghaziri. Fellow student Rand Makarem wholeheartedly agrees: "OCE keeps on fascinating me day after day! I'm so proud to be part of the family."
The event kicked off under the theme of 'The Power of Knowledge and Research' with an engaging address given by Lambert Hogenhout, chief analytics, Partnerships and Innovations at the UN. Participants were given an opportunity to brainstorm ideas on how to help increase transparency and measure progress at an international level.
Obadias Ndaba, president of the World Youth Alliance,— an international organization with special consultative status with the UN and the EU,— later addressed attendees about the importance of cultivating solidarity between young people from various corners of the world through leadership training.
The second day of the conference featured a talk by Samia about the 'Power of Successful Diplomatic Representation', which was followed by a tour of New York's famous financial district.
The conference took a slightly less theoretical turn with an interactive discussion on practical strategies to improve the Model Union Nations (MUN) program and the importance of powerful resolution writing. Participants were then given a tour of the UN Headquarters. The last few days saw presentations by UNICEF New York around the Global Design for UNICEF Challenge, lessons in public speaking, and lectures by Georgetown University professor Dr. Sam Potolicchio and Troy Wolf, UNA-USA representative and Ahmed AlHendawi, youth envoy for the Office of the Secretary General.
For high school student Marianne Azar the conference was a truly valuable experience. "It has made our future as motivated leaders more tangible and real. The perspectives from all speakers have been of most prominence as an inauguration for our future."