On a mission to inspire
The Department of Humanities presents the first live event by TEDxLAU.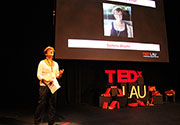 English Instructor Samira Shami, one of eleven speakers from the LAU community.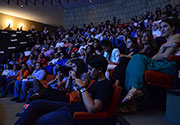 About 100 people attended the event.
Click on any photo above for larger version.
LAU's Beirut campus was overflowing with enthusiasm on Saturday September 29 as TEDxLAU hosted the first live event centered on the theme of "unleashing your passion." Through a series of 18-minute lectures, eleven speakers from the LAU community gathered to discuss the source of their passions and motivation to a packed house in the Gulbenkian Theatre.
Reine Azzi, an instructor of English and moral reasoning at LAU Beirut and also the curator of the event encouraged participants to live their lives with passion, and do something that could change the world—even in a small way.
"TEDxLAU really showcases the best and brightest of the LAU community" enthuses Azzi. "The volunteers were all LAU students from various departments who dedicated countless hours to creating a unique social space where people can share ideas and inspire others," says Azzi, whose own contagious enthusiasm set the tone as she moderated the event.
Also present was the curator of the acclaimed TEDxBeirut series, Patricia Zougheib, who is credited for cultivating awareness of the movement in Lebanon. She discussed the importance of sharing ideas and acknowledged the role LAU played in helping spread the TED movement in Lebanon: "Our first TEDxBeirut salon took place here at LAU on May 26, 2011."
The youngest speaker, Ghida Ladki, a second-year LAU business and psychology student, spoke of the important social implications of raising children with unbridled imagination and freedom. "Even if I touch one person, that is my purpose in giving a talk, to make a difference," she said.
"I feel very inspired by being part of the TEDxLAU group of volunteers," says the event's promotional and advertising manager Hassan Masri. "Creating an opportunity for thought-provoking dialogue and the sharing of ideas is something that should make everyone in the LAU community very proud," he adds with palpable pride.
Masri was part of an army of volunteers who were dutifully stationed at booths, supervising interactive activities that were meant to inspire and stimulate discussion among the attendees.
Another speaker at the event was veteran LAU English instructor Samira Shami who gave a poignant talk entitled "writing your own life script" where she stressed the importance of daring to live your life pursuing your passions. "We only live one time—dare to be who you truly are and live your life on your own terms," Shami said to a captivated audience.
"I arrived to Beirut a month ago from Germany and I was really impressed by this event," says LAU exchange student Linda Hewitt who was grateful for the opportunity to meet such high caliber figures of the LAU community. "It has been a lot of fun," she gushes.
Organizers made sure to infuse entertainment into the program by including live performances of song and dance as well as popular screenings from TED Talks worldwide such as the highly popular Iranian-American comedian Maz Jobrani.
"TEDxLAU was a great success!" said second-year engineering student Mohammad Absi. "If the mission was to inspire, my verdict would be: 'mission accomplished!'"
Stay tuned as TEDxLAU promises to host more intellectually stimulating events in the upcoming months.
TED is a nonprofit organization that began in 1984 devoted to 'Ideas Worth Spreading' bringing together people from three worlds: technology, entertainment, and design. Since then its scope has become ever broader—local, self-organized events are branded TEDx, where x = independently organized TED event.