On fashion and academia
The Bachelor of Arts in Fashion Design in collaboration with Elie Saab hosts a lecture on developing a fashion program at LAU.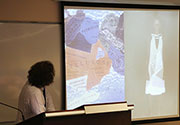 The lecture was hosted by the Bachelor of Arts in Fashion Design in collaboration with Elie Saab which will be launched in the fall of 2013.
Click on photo for larger version.
London-based fashion designer-cum-researcher Dr. Nicolas Cambridge gave a lecture entitled "Supporting The New Precariat: Developing a Fashion Programme at LAU" on the Beirut campus on June 11.

"Today more than ever, fashion programs are in dire need of a fit for purpose curriculum," said Cambridge. "Future fashion designers need to learn about their communities' needs and build something homegrown accordingly."
A graduate of the London College of Fashion, Cambridge explained that any given fashion studies curriculum should answer three pivotal questions: What should the students' learning outcomes be? What are the teaching methods that ought to be employed to achieve these outcomes? And what are the resources — money, material, infrastructure, and human capital — needed in order to do so?
Musing on his time as a fashion student in the U.K. during the 1980s, Cambridge drew on his experiences as a fashion practitioner and academic in London, reflecting on how they helped to collectively shape his teaching philosophy.
In the mid-1980s, highbrow fashion programs like Kingston University's matriculated less than 20 students out of an applicant pool of over 100 every year. Thirty years later, these numbers have multiplied, and a striking average of 4,000 students graduate from fashion schools in the U.K. every year — "that's more fashion designers than is needed in the entire European Union," noted Cambridge.
The resulting imbalance in the supply and demand curve created what French sociologists in the 1980s dubbed the "precariat." The neologism is a mash-up of the words "precarious" and "proletariat," and was and is used to refer to a new social class that comprises unprotected temporary or seasonal workers.
In order to cope with a greater number of students in the classrooms, U.K. fashion schools are inclined to put a lot of emphasis on group work, an admiringly constructive practice that nonetheless comes at a great price: it allows certain students' deficiencies to be masked — and thus to not be tackled early on in the program — by not engaging them in all the different parts of the curriculum at the same time.
Effectively, "fashion education should not be a means to an end, but an end in and of itself," said Cambridge. It should simultaneously serve the interests of the students, teachers, and practitioners, while allowing the former of the three to unleash their creativity in such way as to be in the service of their respective communities.

"Fashion is unlike any other field in design. It is directly related to people and culture almost by its very nature," said Silia Abou Arbid, instructor and associate chair of the Fine Arts and Foundation Studies Department at LAU. "This is why it's important for LAU to develop a program which is Lebanese, but connected to the world at the same time."
The lecture was hosted by the Bachelor of Arts in Fashion Design in collaboration with Elie Saab.
The Bachelor of Arts in Fashion Design in collaboration with Elie Saab will be launched in the fall of 2013. For more information, please visit http://sard.lau.edu.lb/fd/programs/ba-fashion-design.php