On the wings of academic excellence and leadership
LAU welcomes its fifth cohort of University Scholarship Program scholars.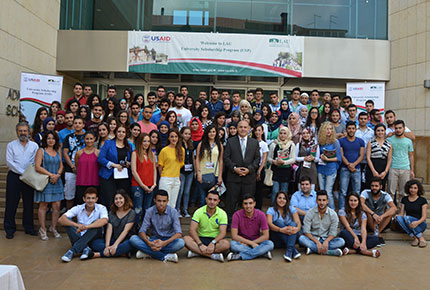 Last week, 49 high-school graduates from towns across Lebanon were given a warm welcome on their first official day at LAU. They are the university's fifth cohort of students to receive a full scholarship under the USAID funded University Scholarship Program (USP).
"President Jabbra's words were very nice and all the professors and students have made us feel welcome," said USP scholar Charbel Ghorra, who moved to Beirut from his hometown of Zahle to study computer science. "This is a wonderful opportunity for me, to both study at a great university and to live in the capital."
Ghorra was among the only six percent of applicants awarded a USP scholarship this year following a long and vigorous selection process that included testing, interviewing and consideration of financial need. "You are a miracle. Selection this year was very difficult. You are the most amazing students in Lebanon, being both smart and with big dreams," said VP for Student Development and Enrollment Management Elise Salem, addressing the new cohort.
Also present at the event were no fewer than 60 former and current USP scholars. Among them was Iman Aziz, an electrical engineering major who was one of the very first students to benefit from a USP scholarship four years ago. "We truly are a family," she said. "We stick up for each other, we help each other and we're always together." Aziz will graduate soon and is considering returning to LAU to study for an M.B.A. after gaining some work experience. "I have confidence in the degree that I will get from LAU, and I feel comfortable here. The relationship between students and professors is warm and encouraging."
Acting as the master of ceremony for the day, Aziz introduced each of the professors and administrators as they took to the podium to welcome the new arrivals. "Your idol and guardian while here," she said, introducing AVP for Outreach and Civic Engagement Elie Samia. "He'll support you, notice your failures, help you overcome them and forever remind you that you have two wings."
Those wings, explained Samia, represent academic excellence and leadership. His Outreach and Civic Engagement unit (OCE) that manages the program encourages and enables USP students to excel in leadership and civic engagement through a number of mandatory workshops. According to Aziz, these elements are a strong component of the scholarship program, bringing its students together.
In addition to the workshops, USP scholars must each come up with a community project in their hometown during their time at LAU. As a result, Aziz organized a fun-day for children in Niha. Other USP student projects and achievements were highlighted both in a short film that opened the orientation session and through USP alumni testimonies.
"I cried a lot when I first came to LAU because I missed my hometown," said School of Nursing graduate Nour Al Andary, a recipient of LAU's Riyad Nassar leadership award. "Soon I met wonderful people from different backgrounds and felt at home." A qualified working nurse, Andary is now on a number of hospital committees, taking an active role in management and policy. "My time at LAU and our OCE activities prepared me for this, and I will always remember it fondly."