LAU supports computer science education through game coding competition
The university's Software Institute collaborates with the Tides Foundation to enhance the professional development of computer science teachers.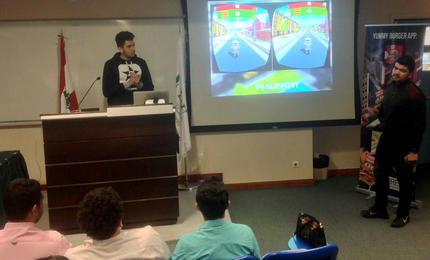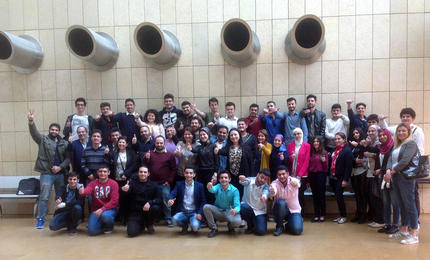 Teachers and students from across Lebanon recently took part in a Game Coding Competition for High Schools recently organized by LAU's Software Institute.
The competition is part of a program, supported by the Google for Education and University Relations Fund of Tides Foundation, which has been providing training in game development and computing skills. Within this framework, and in parallel with the contest, 42 computer teachers from around 30 high schools attended workshops focused on professional development on LAU's Beirut and Byblos campuses, as well as at the university's Outreach and Leadership Academy (OLA) in Sidon.
"By providing professional development for high school teachers, the program aims to improve the computer science educational ecosystem in Lebanon," explains the institute's director, Associate Professor of Computer Science Sanaa Sharafeddine.
In preparation for the competition, the teachers formed and coached teams of students who attended additional training sessions at LAU to provide them with technical support.
Eleven teams participated in the competition for coveted prizes that included a 30 percent scholarship for each member of the winning team, and $1,000 to be divided amongst them. Second and third place winners received 20 percent and 10 percent scholarships in addition to the sums of $500 and $300 respectively.
Al Makassed's Ali Bin Abi Taleb School won first prize for its project Yummy Burger featuring Jeff, the owner of a burger restaurant, who must eat as many burgers as possible on his way to find his stolen secret recipe. The game incorporated virtual reality features that produce realistic images and sensations. The technology is not actually utilized in most of app store's popular games, a main reason why the team chose to use it. Recycle, presented by a team from Sarafand Institute, and Cubes, developed by students from International School of Choueifat, won second and third place respectively.
"This is not the first time that LAU supports us, we [his classmate Zakaria El Ouze] had also participated in the (summer) computer camp," says Abdullah Barazi of the winning team, who will benefit from the scholarship to enroll in LAU's Computer Science program. As one of four children from a middle-income family, Barazi said the financial burden of a full tuition fee was too heavy on his parents. He expressed his gratitude for LAU and the competition in specific for helping him "prove to everyone that I can make it and I can get a scholarship."
The competition was overseen by a jury of experts that included LAU instructor and professional game and web developer Joseph Hannoush, web developer and digital strategist Mariam Mohanna, computer graphics specialist with emphasis in 3D art and animation, game development and agile software project management Ali Hammoud and lead developer and head of game development at Game Cooks Joseph El Kadi.
The jury and attendees were both impressed by the sophisticated standards demonstrated by the students in game coding.
"It is amazing to watch how the coding skills of those young adults developed. I was impressed by the caliber of games that were demonstrated with lots of passion and determination," says Sharafeddine. "This competition is yet another testimony that computing and coding are at the heart of our youth and have to be introduced early on to equip them with distinguishing skills."