One university, two campuses
LAU celebrates the vision and generosity of the Zakhem family.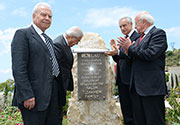 Unveiling the commemorative plaque.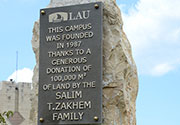 The Zakhem family donated 100,000 square meters of land.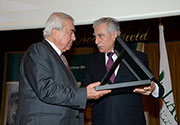 LAU President Dr. Joseph G. Jabbra presenting George Zakhem with a recognition shield.
Click on any photo to view all three pictures.
For donating the land that made its Byblos campus possible, LAU recently honored the family of Salim Zakhem. At a ceremony on May 11 attended by ambassadors, politicians, dignitaries and LAU alum, President Dr. Joseph G. Jabbra presented Salim's son, George, with a shield "in recognition of what [his] family has done for LAU."
Salim and Hanneh Zakhem, who Jabbra described at the ceremony as healthily "obsessed with education," passed their commitment to serving others on to their children. "Those values are reflected in a magnificent way in the relationship between the Zakhem family and LAU," Jabbra said.
A successful engineer and businessman, George Zakhem has a long and storied history with the university. In the early 1980s, while the Beirut University College (or BUC, as LAU was previously known) fought to remain open as violence engulfed much of Lebanon, Zakhem had a vision. After taking up chairmanship of BUC's Board of Trustees in 1984, he posited that having only one campus in war-torn Beirut hindered efforts to reach all of the country's young scholars.
The early years of Zakhem's tenure were important for LAU, noted Jabbra, as it came at a time when BUC was struggling with financial difficulties, war and its strategic vision for the future. As chair, he played a critical part in steering BUC along the right path, and overseeing the college's transformation into a university. His family's subsequent donation of 100,000 square meters of land in Blat, near Byblos, was instrumental in making LAU what it is today. George Zakhem had already made generous donations to establish two scholarship funds for students who could not otherwise afford to attend BUC.
It was, as Jabbra described it, "the will of a family and a university that made a difference in the lives of so many young men and women." That difference is indeed considerable: today almost 3,000 of LAU's 8,273 students are based on the Byblos campus.
The architect of LAU's expansion, Zakhem fondly recalled the challenges the board faced in convincing the Lebanese Government, the university's Board of Regents in New York and even its own members to embrace the idea of having two campuses. "It's with great satisfaction and humility that I look on those years of trouble," he said.
Tears came to Zakhem's eyes as he described the efforts the board undertook to finance LAU's growth.
"With a strong will, we have turned this idea into one of the most beautiful universities in Lebanon," he said.
Reflecting on the enduring relationship between his family and LAU, Zakhem said of the Byblos campus: "This achievement proves beyond any doubt that those who dream can do, and we dreamt and we did."