Op-ed: Sponsored suicide
Dr. Ray Jureidini looks into Lebanon's ongoing migrant domestic labor scandal, in light of recently videotaped abuse that led to a suicide and public outrage.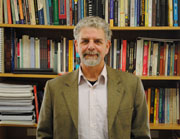 Dr. Ray Jureidini is an associate professor of sociology at LAU Beirut and a faculty member of LAU's Institute for Migration Studies.
Click on photo above for larger version.
The suicide in mid-March of Alem Dechassa, a 33 year-old Ethiopian domestic worker and mother of two who had been in Lebanon only three months, kindled a wave of public revulsion surging far beyond Lebanon's borders. Video of her abuse and humiliation at the hands of the Lebanese agent, Ali Mahfouz, went viral, triggering vigils, memorials and protests worldwide that focused on the rights and protection of domestic workers in Lebanon. It remains to be seen whether the case will spur meaningful reform among Lebanese police, the Ministry of Labor, the Ministry of Interior, Ministry of Justice and General Security.
Mahfouz has been charged with contributing to her death, but we will never know the full story of her experiences during the three months she was here. Migrant domestic workers have been abused, degraded, and sometimes killed with something akin to impunity in the decades since the civil war ended. Embassies of sending countries in Lebanon have been powerless to intervene, and deaths like Dechassa's are poorly investigated.
Needed reform includes — but is not limited to — the extension of existing labor law to migrant domestic work. There is also a need for a shift in cultural attitudes regarding the treatment of foreign women who are increasingly the backbone of the family and indeed the Lebanese economy. Approximately one in three Lebanese households now have a live-in migrant domestic worker, responsible for everything from cooking, cleaning, washing and ironing to the care of children. Without them, how would Lebanese — of almost all social strata — cope with their jobs, families, marriages and social lives?
This level of dependency may indeed be the problem. Cheap provision of these services is now critical to quality-of-life expectations in Lebanon. This is true not only in a practical but also in a symbolic sense. And the status enhancement in having a servant comes at the expense — not always, but too often and too easily — of the latter's basic rights and human dignity.
One often hears the objection that with Lebanese women denied certain rights in Lebanon, why focus on migrant domestics? The moral logic of this argument — predicated on a hierarchy, with non-Lebanese women domestic workers at the bottom — is unpersuasive, even racist.
How does one explain the casual brutality of the agent, Ali Mahfouz? The agency system in Lebanon has always been corrupt, lacking in regulation and transparency, its violence and authoritarianism tacitly tolerated. We have known that recalcitrant workers can be returned to the agency for "corrective punishment" — a beating — if the employer is unable or unwilling to do it herself. And the financial exploitation of domestic workers by agents who take the first three months of their salaries is scandalous, fraudulent and should not be allowed.
Dismissing Alem Dechassa's suicide as the act of a mentally ill person is too easy, a familiar piece of casuistry. She was understandably adamant and angry about her looming deportation to Ethiopia. She had probably not been paid any salary since arriving. She had probably also borrowed money to fund her journey; to her two children at home she would have returned in shame, a failed provider with nothing but a serious debt she could not repay. She did not want this. The decision to deport someone from a country should not be in the power of an agent or a sponsor.
In cases like Dechassa's, the burden of sanity seems always to falls to the abused. At any rate, if she had allegedly attempted suicide before and her stability was genuinely a source of concern, why was she not placed under special scrutiny in Deir al-Salib psychiatric hospital?
The question remains whether this government and its ministers have the courage finally to do something, instead of invoking the customary excuse of more pressing matters of state to deal with in Lebanon. There are approximately 200,000 migrant domestic workers in Lebanon, and their plight has long been understood. More than a decade ago, Michael Young of the Daily Star published a monograph bringing attention to it. Every issue he raised then is still pertinent today. The only change is an increase in migrant worker suicides and killings, documented by Human Rights Watch four years ago.
Are there enough men and women of conscience in Lebanon to do something about this? Plenty of options have been put on the table for consideration. After years of discussion, a ministerial committee proposed draft legislation last year to improve protection for migrant domestic workers. Boutros Harb, then Minister of Labor, severely reduced the scope of the proposed legislation. However, before even that could be implemented, the new minister Charbel Nahhas decided to ignore the draft law altogether and instead repeal the exclusion of domestic work under labor law, a procedure that may have been more politically manageable. This would have been a major step forward in providing occupational protection, but Nahhas resigned over another issue and the ball was dropped.
It is uncertain whether the current Minister of Labor, Salim Jreissati, will take up the issue. If ordinary concerned citizens — not to mention the usual suspects who influence government decision-making — remain silent, there is probably little hope of political action to ameliorate the working conditions of migrant domestic workers in Lebanon, whose daily degradation is a blight on our reputation worldwide and more importantly, a moral scandal in its own right.
Ray Jureidini is an associate professor of sociology at LAU Beirut and a faculty member of LAU's Institute for Migration Studies.